How the sector is adapting to the extremes of climate change
Sam Jones (Housing Sector Lead) joined an esteemed panel on the Unlock Net Zero Stage to discuss 'How the sector is adapting to the extremes of climate change'

Sam Jones (Housing Sector Lead) joined an esteemed panel on the Unlock Net Zero Stage to discuss 'How the sector is adapting to the extremes of climate change'. Chaired by Professor Susan Roaf (Ecohouse Initiative), Sam was joined on the panel by Dr Gemma Jerome (Building with Nature) and William Swan (Energy House Laborites).
The session offered an insight into the change of approach that the housing sector could and should make to futureproof our living spaces for the extreme weather and climate change.
Before leading to the first panelist, Professor Susan Roaf opened the conversation with the realisation that our weather and our climate is changing, adding 
by 2050, extreme events such as the 2003 European heatwave will be a 'cool summer'
Dr Gemma Jerome outlined the necessity to encourage climate positive behaviors in the sector that support developments and buildings, but also follow an equity agenda that puts nature on the doorstep of everyone. She encouraged the interaction with nature to respond to climate emergencies as they provide shade and cooling, increase wellbeing, and importantly outlined that this can be achieved in any space, regardless of size.
Building on this, Sam Jones highlighted that sharing best practice within the sector is the key to achieving this on mass. At Ground Control our Wildfell Centre for Nature Recovery is a site that in future can be used to showcase best practice, but today key educational events such as Green Gains Live are increasing biodiversity knowledge, and the collaboration of key housing associations through the Green Space Advisory Board are driving this today.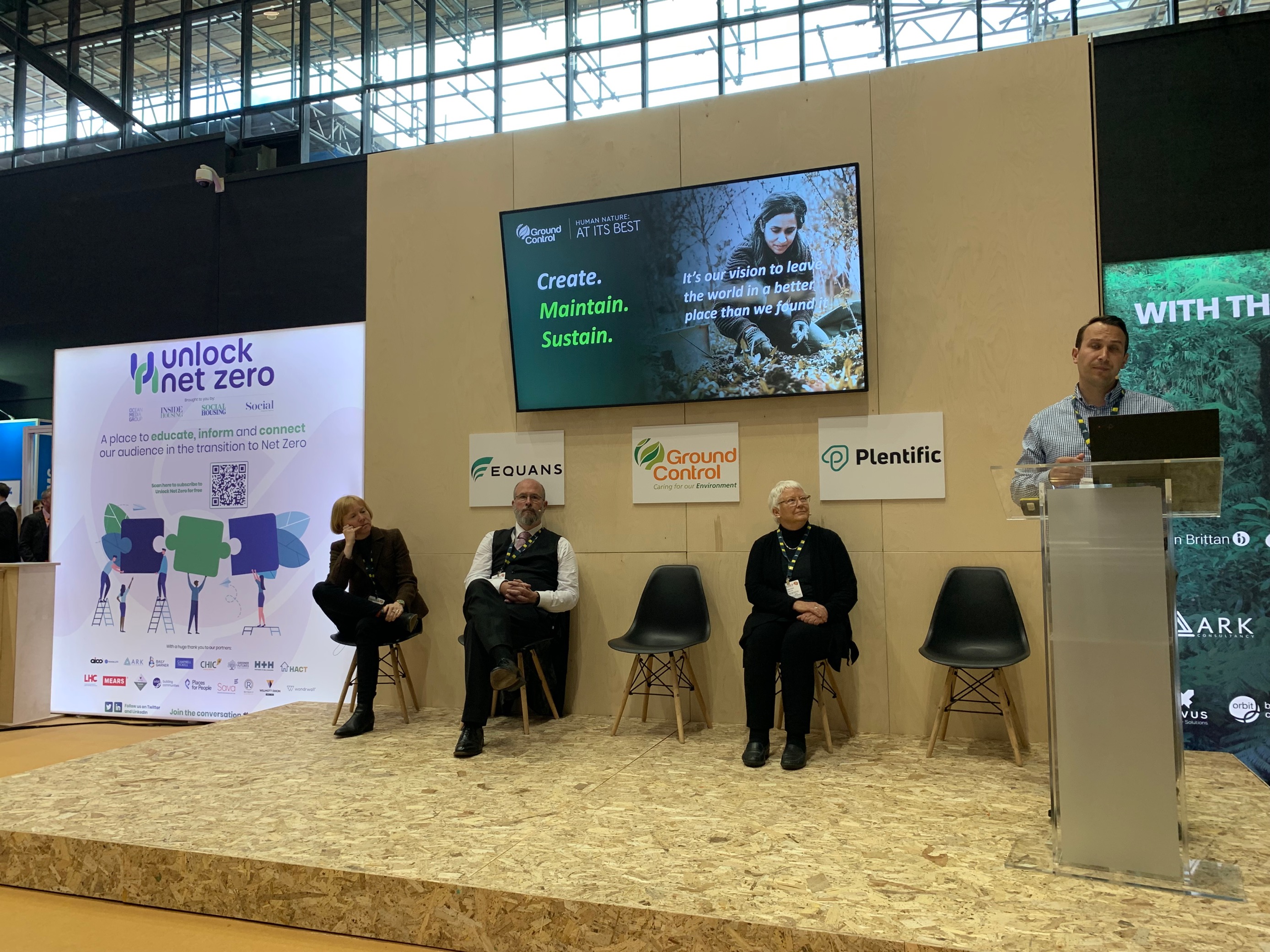 The housing sector is adapting to extremes of climate change and look at ways nature-positive land management can be introduced to reduce localised flood risk, enhance shade, reduce heat island temperatures within community green spaces, and provide biodiverse habitats for the benefit of people and planet.
Outside the sector, examples such as our partnership with Seven Trent and their mission to create a Carbon Neutral Commonwealth Games is a community-based approach that leaves a lasting planting legacy, and our recent work with Pinner Park is a biodiversity school based project that will create educated and passionate future generations with who will drive a green space agenda.
Within housing developments, William Swan added a key note, agreed across the panel, that "solutions need to work for people" as well as working for the place and location that they are in. He highlighted a fetishism with new technology that needs to be tested, analysed and reviewed before implementation.
Professor Susan Roaf concluded the key takeaways and summarized that, design needs to work WITH nature, maintenance needs long term planning, solutions need to be tested to suit the needs of the people and place and that the sector needs to design for the future, not today.
She highlighted the need to educated the sector to simplify our use of spaces to create housing that is suitable across our climate, seasons and extreme weather.
Join our LinkedIn Housing & Communities group and be part of the conversation about 'creating and pioneering sustainable environments that work for those living in our communities'.