The salt story. Our national treasure
A fascinating history of the salt we use to grit your sites.

Ever wondered how we never fail to supply our winter maintenance customers with the most sustainably sourced salt product at the best price?  It is closer to home and much more fascinating than you might think. 
We spoke with one of our salt suppliers, Compass Minerals UK, owners of the largest and oldest working rock salt mine in the UK.
As one of the company's five top general trade customers, Ground Control has received over 25,334.80 tonnes of salt from Compass Minerals, ensuring we never run out of salt for gritting, and for our clients' own supplies.
Since 2020, Ground Control has received over 25,334.80 tonnes of salt from Compass Minerals UK
Check out some fascinating facts from our friends at Compass Minerals about our very own 'national treasure' that lies beneath the town of Winsford. 
Tell us a bit about the salt mine and its history
The salt is produced at Winsford Rock Salt Mine which lies almost 200m under the Cheshire countryside. The mine opened in 1844, the same year when salt was first discovered in Winsford, and is proudly Britain's oldest working mine.
Did you know that some of the towns near the Winsford mine all take their names from salt production?
Salt mining has left a significant legacy in the area, so much so that some of the towns around Winsford including Northwich, Middlewich, and Nantwich, all take their names from salt production, with 'Wych' often meaning 'Brine Town'.
The salt itself evolved 220 million years ago when England was covered by inland seas. As the seawater evaporated during high temperatures, large areas of salt deposits were left behind. During the process of the sea evaporating, large dust storms blew sand over from eastern deserts as salt crystals formed. This is what gives our salt its tinged pink color.
Our salt is tinged pink due to dust storms that happened over 220 million years ago
As well as being a working salt mine, the site is also used by DeepStore Records Management for archive storage and artifact preservation. The mine naturally maintains a consistent temperature of 15 degrees Celsius and 55% humidity and is naturally secure and free from vermin and UK light. This makes the site ideal for preserving artifacts.
The void spaces left in the mine from millions of tonnes of mined rock salt are used for secure storage of records and preservation of artifacts.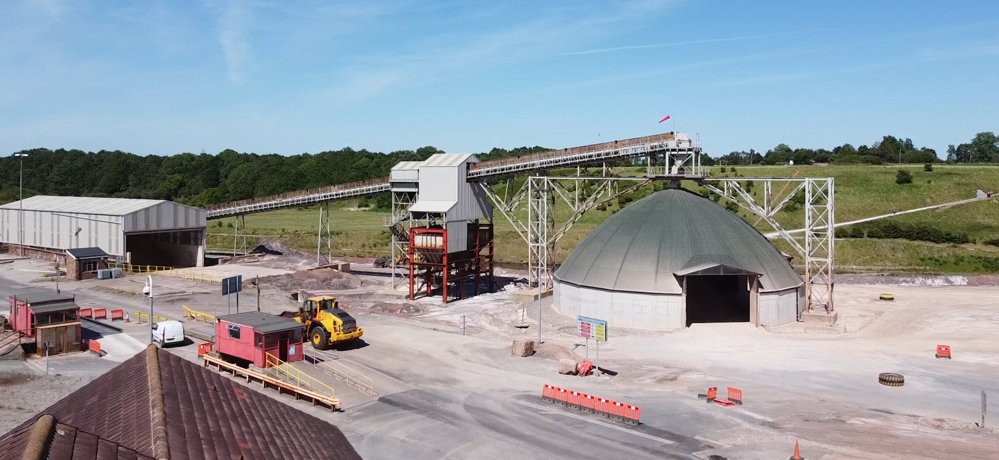 What are the unique benefits of domestically procured salt to winter gritting providers?
The mine's location in Winsford, Cheshire, is easily accessible to the Ground Control gritting headquarters in Leeds, and to Ground Control's 200+ gritting depots across the UK.
Locally produced salt has many benefits to the supply chain and the end user. It is one of the reasons why Ground Control can confidently say that they will not run out of salt.
This domestically sourced salt ensures that there is no risk of supply disruption due to shipping delays and hazardous weather conditions at ports.
The simple logistics of transporting salt locally, also contributes to Ground Control's accredited carbon-neutral status, due to the significantly lower carbon footprint compared with imported salt.
Isn't it ironic that some winter gritting suppliers run out of salt when it is needed most due to weather disrupting transportation to and from ports?  Not Ground Control, as the salt here is locally sourced.
Our salt is also significantly cheaper than imported salt where prices are due to increase even further because of the impact of global shipping shortages.
We seek to work with suppliers who share our sustainability ethos, as you do. Can you tell us a bit more about your environmental commitments?
Sure, we love our environment, and here are a few ways we help to protect it:
All waste is recycled, reused, or converted to electricity
We operate a protected species program with two ecological management zones, located in our woodlands at our Winsford site. These areas are protected and monitored annually by a professional ecologist, to ensure the wildlife is not disturbed, and that they have the best possible opportunity to thrive in their natural environment
We have four beehives onsite located in our wildlife garden which are cared for by a local beekeeper
Most of the vehicles we use underground are electric, and we are always looking for ways to offset where this is not possible
We have a committee that supports local charities
We repurpose the voided parts of the mine for storage and preservation of records and artifacts, saving on energy through exploiting the natural resources of the mine.
Jay Hicks, Winter Maintenance Operations Director, Ground Control commented:
We market ourselves on our reliability and on our ability to deliver a service that ensures our clients' businesses are safe for their people and their customers, so we need to be able to prove our resilience. Working with Compass Minerals cements this proof, making us resilient through an endless supply of salt to our depots and emergency facilities.
This long-running partnership enables us to embrace the seasons, knowing we are covered for unexpected, extreme weather and can deliver for our clients whatever the weather throws at us.
During the winter season, it is a question of monitoring usage and staying in touch with Ground Control's operational teams. But it is not just Ground Control's gritting teams the salt is supplied to. Suppliers like Compass Minerals enable us to deliver salt to clients too.
In addition to salt stock, Ground Control also supplies grit bins and spreading equipment to clients, so being able to rely on suppliers to satisfy the demand for a fully resilient winter maintenance package, is something we at Ground Control consider a 'national treasure'.
Being able to rely on our suppliers to satisfy the demand for a fully resilient winter maintenance service is something we consider a 'national treasure'.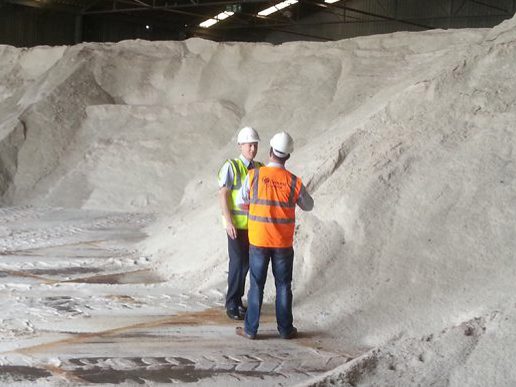 Blog
Jay Hicks, Winter Maintenance Operations Director, on maintaining emergency salt supplies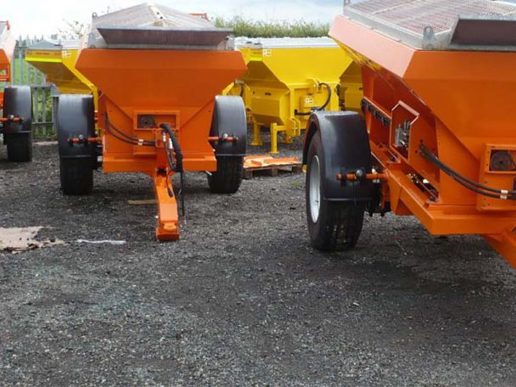 Blog
Lyndsey Burns, Winter Maintenance Key Account Manager, on how we always have enough salt, whatever the weather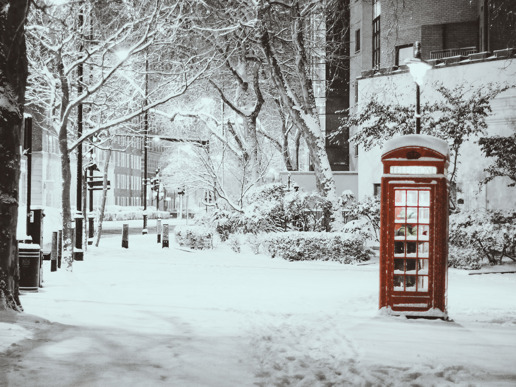 Blog
Enabling a successful winter season by investing and encouraging growth