The future of UK Biodiversity championed at Green Gains Live
Leading experts came together to drive the biodiversity agenda

On 14th July leading experts came together from Natural England, Severn Trent & Lower Thames Crossing to drive the biodiversity agenda
Regaining the UK's lost biodiversity was at the forefront of the debate at Green Gains Live, Ground Control's flagship biodiversity summit which took place 14th July.  Leading experts from industry, business and sustainability including Natural England, Severn Trent and Lower Thames Crossing joined Ground Control to discuss how businesses and organisations can map the path to biodiversity recovery in the UK.
Over half of the UK's plant and wildlife has been lost since the industrial revolution and, at current rates, the UN predicts that one million species on the planet will be extinct by 2039, one eighth of the total species alive on Earth today.
The COP15 summit, the world's foremost biodiversity conference, was originally meant to have taken place in Kunming, China in 2020 but has been delayed four times due to the Covid pandemic, political disagreements, and a lack of prioritisation by Governments. Now finally scheduled to take place this December in Montreal, Canada, the signs are pointing toward a lack of consensus being agreed and further delays in preventing the loss of the world's precious biodiversity.
At the same time, the Government's Nature Recovery Green Paper, consulted by Natural England, has mapped out a path from conservation to recovery, suggesting different approaches and ways of achieving progress toward replacing what has been lost.
In response, the Green Gains Live event brought together leading experts, businesses and major landowners to define a smooth approach to nature recovery aligned with Natural England's Nature Recovery Network as well as The Wildlife Trust's 30 by 30 project, and many other initiatives aimed at combatting the issue.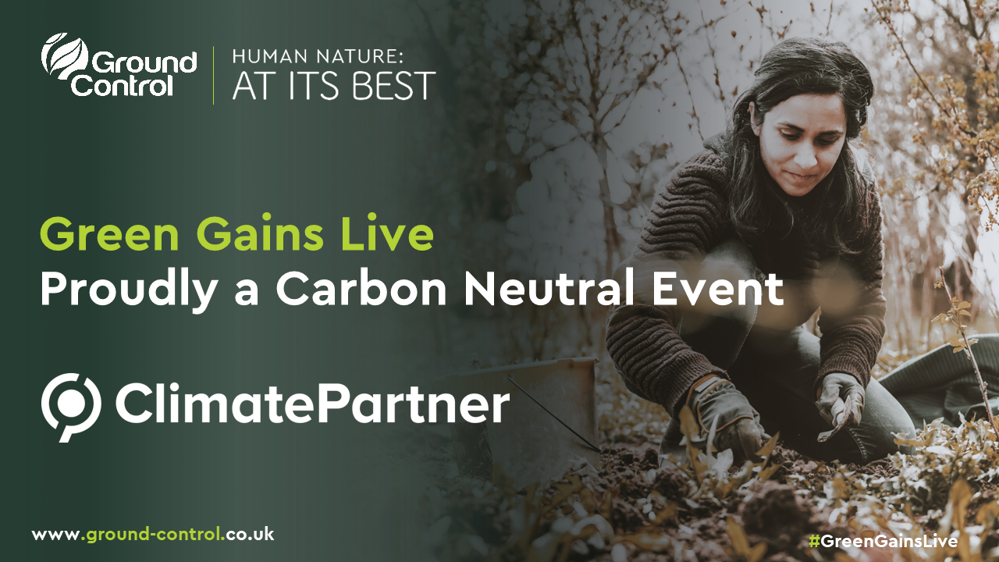 The themes for Green Gains Live included rewilding for nature, how to deliver Natural England's Nature Recovery Network, and environmentally conscious land management. The one-day event incorporated a morning of insightful keynotes – led by Tony Juniper CBE, Chair of Natural England – plus dynamic panel sessions with input from:
Liv Garfield, CEO Severn Trent
Ricky Dallow, Forest Creation Lead, Severn Trent
Matt Palmer, CEO Lower Thames Crossing
Helen Neave, Director Make it Wild
Chris Bawtree, Woodland Creation Lead, Ground Control's Wildfell Centre for Environmental Recovery
Tony Juniper CBE, Natural England Chair and Green Gains keynote commented:
Our habitat is under threat as never before, and we are now facing a critical window of opportunity. The good news is that, collectively, we can all make a difference. Now is the time for everyone to play their part in contributing to positive environmental change, protecting the natural environment, and promoting biodiversity. Going forward, we need to come together to pursue an ambitious, impactful and above all, collaborative, approach. We all have a valuable contribution to make – and no landowner is too small to make a difference.
Jason Knights, MD of Ground Control said:
It's positive that COP 15 has finally been confirmed, but further biodiversity loss without arrest equates to millions of years of delicately balanced ecosystems being wiped off the slate. The world needs businesses to come together with governments and citizens to drive change at a system level and become an active part of driving biodiversity net gain.
Kim Morrish, Director of Ground Control added:
We cannot and should not do this alone, nature belongs to everyone – and everyone should contribute to its recovery.