Planting a legacy for the Birmingham 2022 Commonwealth Games
To celebrate the Birmingham 2022 Commonwealth Games, we are excited to share our planting partnership with Severn Trent.

The Commonwealth Games 2022 that took place in Birmingham on 25th July – 4th August may have come to an end, but the legacy lives on in 72 tiny forests that we had the privilege to support Severn Trent with the planting of around the West Midlands.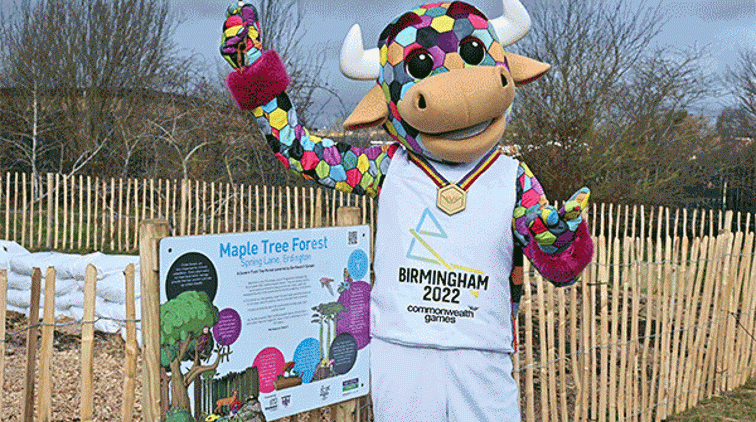 A tiny forest was planted for each of the 72 competing territories and 2022 acres of new native woodland, these forests will be enjoyed by local communities for years to come and contribute to a zero-carbon future.  
Below are some of the newly planted forests representing a competing nation at the first-ever Carbon Neutral Commonwealth Games. 
Crimson Sunbird
Flamingo
Shamrock
Plumeria
Bellbean
Banana Orchid
The Cyprus Warbler
Zenaida Dove
Keel Billed Toucan
White Breasted Waterhen
Tawney Eagle
Lotus Forests
Jason Knights, Managing Director of Ground Control said: 
We are proud to be working with Severn Trent and local volunteers on such a poignant tree planting initiative. At Ground Control, we have set ourselves an ambitious target to plant one million trees by 2025. It's initiatives like this that give me confidence we'll reach our target sooner rather than later.
Our work with Severn Trent is a prime example of a like-minded partnership and shared vision of leaving our environment in a better place than we found it. Having the opportunity to be part of making this happen by leaving a sustainable legacy from the Birmingham 2022 Commonwealth Games, is a true honour. What we say here at Ground Control is this is human nature at its best!
We understand that tree planting is a simple, yet effective way to remove carbon from the atmosphere, as well as create biodiverse habitats and support community wellbeing. I look forward to seeing the trees maturing in the coming years and leaving a positive legacy, long after the Games.