Pro Landscaper Sustainable Company of the Year
Sustainable Company of the Year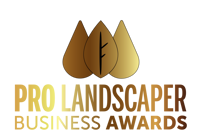 Sustainable Company of the Year
The Pro Landscaper Business Awards focus on how well companies run their business. Profitability, sustainability, corporate social responsibility, commitment to the landscaping sector, and client/supplier relationships are all reviewed as part of identifying the shortlist and overall winners.
The highly anticipated award from the landmark industry title highlights Ground Control's role as a leader in environmental and business sustainability throughout the landscape sector.
The Awards were presented at the fourth annual ceremony which took place at East Wintergarden, Canary Wharf, on Friday 30th July.