Clean Van Commitment
A public commitment for fleets to switch to electric by 2027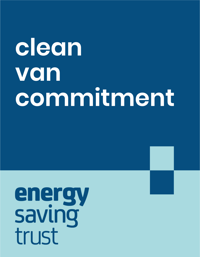 A public commitment for fleets to switch to electric by 2027
Ground Control is officially part of the Clean Van Commitment (CVC) and will contribute to reducing local air and noise pollution, reducing greenhouse gases. 
The CVC is a public commitment for fleets to switch petrol/diesel vans 3.5t and under to electric by 2027, and petrol/diesel vans over 3.5t by 2032, helping organisations show leadership in tackling air pollution and climate change.
Petrol and diesel vans have an end of sale date of 2030. CVC's mission is to assist organisations speed up the process of electrifying their van fleets.
Collectively we will show the market demand and accelerate the transition to electrifying the UK's 4.5 million petrol / diesel vans.