Taking action with EV for cleaner air
We spoke with Tom Goodman, Technical Director, Energy & Decarbonisation, to find out why are Electric Vehicles part of the solution to cleaner air
Every year Global Action Plan runs a campaign known as 'Action For Clean Air', with an annual themed 'Clean Air Day' as part of this.
This years theme is "Clean up our air to look after your mind"

Citing that "air pollution causes up to 36,000 deaths in the UK", the campaign is driving forward the importance of clean air for our health. We spoke with Tom Goodman, Technical Director, Energy & Decarbonisation, to find out how electric vehicles can support cleaner air and how Ground Control can support this nationwide.
Why are Electric Vehicles part of the solution to cleaner air in the UK?
The simple answer is they create less emissions than a traditional combustion engine with no tailpipe emissions. The more complex answer means taking a look at the full journey, from manufacturing to fuelling – and importantly using sustainable power sources.
Away from EV, the solution to cleaner air is complex. Our Green Gains Solutions team work hard to enhance green spaces with nature-based solutions to help address this complex issue.
What are the challenges the UK faces in changing to Electric Vehicles?
We recently shared an article from The Times, which explored "the gulf between the number of electric vehicles on the road and public charge points". One of the challenges we are facing is UK infrastructure not being able to support the charge points needed to meet the ambitious target to end the sale of new petrol and diesel cars by 2030.
It isn't just a case of installing these, we need to ensure they are monitored and maintained to maximise usage. As with all infrastructure – there needs to be a plan to keep these chargers safe and operational.
How can Ground Control support and solve the above?
Upscaling infrastructure requires businesses to take the initiative and take action that is right for their staff, customers, and their fleet. Whilst examples across the business, we have two very different solutions that are bespoke to the business and its needs.
A fantastic solution for those managing fleets, is the mass installation of home chargers. We recently announced the Openreach partnership that will see EV chargers installed outside engineers' homes and at key Openreach sites. This at-home solution to one of the UKs largest commercial fleets allows engineers to seamlessly switch their vans without worrying about infrastructure, or charge time.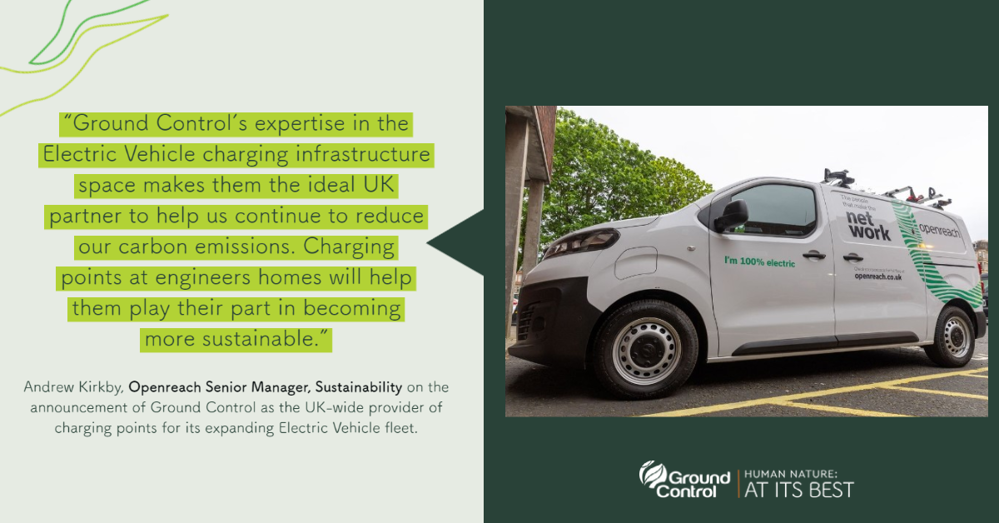 For those who want to support their staff, we have also seen companies such as Ibstock Bricks, Cadent Gas and Capita boost and upgrade their EV capabilities at their offices. This supports their staff to make the transition and in this case, built on the chargers they already had in place.
In both these examples, we use data to understand the clients' usage, and they benefit from a personalised dashboard to see 'how' and 'when' their charge points and energy are used.
What should we look out for from the Electric Vehicles Charging Team at Ground Control?
We are very excited to be able to look at the full decarbonistaion journey of clients and will be announcing more soon. Our offering includes consultancy, design, installation, and maintenance and management piece – but we have more to come.
The other big news coming out of team is that whilst we continue to explore charge point vendors to suggest the ideal hardware and software for clients, we also have a brand new Ground Control hardware and software solution that we can also offer.