Openreach names Ground Control provider of EV charging points for its Electric Vehicle fleet
Thousands of charging points for the UK's largest wholesale broadband network provider are set to be installed nationwide

Openreach names Ground Control as their UK-wide provider of charging points for its expanding Electric Vehicle fleet
The partnership will see Ground Control install thousands of charging points for Openreach across the UK, spanning from Aberdeen all the way down to Plymouth.
EV chargers will be installed outside engineer's homes and at key Openreach sites. As part of the company's commitment to supporting British manufacturing, all electrical equipment and hardware where possible will be sourced in the UK.
With more than 30,000 vehicles out on the roads, Openreach has the second-largest fleet in the UK. Its engineers travelled around 280 million miles during the last 12 months, so have a huge impact on CO2 emissions. Its vans are crucial in helping its engineers to deliver great service and build its new Full Fibre broadband network across the UK. This new charging infrastructure will them do so in a more sustainable way.
The partnership forms the latest development in the close relationship between Openreach and Ground Control - last year, the two companies partnered to create 'OpenWood',  a woodland-creation project in Lincolnshire which saw more than 3,000 young trees planted.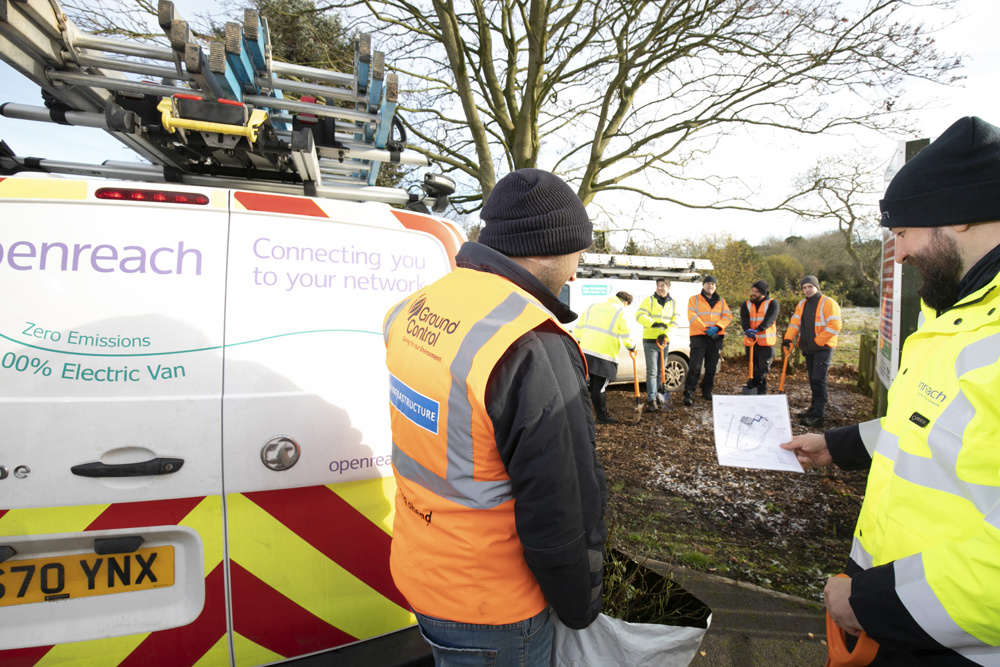 Both businesses are also founding members of the EV100, a global initiative bringing together companies committed to accelerating the transition to electric vehicles this decade.
Tom Goodman, Technical Director, Energy & Decarbonisation at Ground Control, said:
We are delighted to be a key strategic partner in Openreach's ambition to switch its commercial fleet to electric by 2030, and in the process strengthen ties between our companies. Ground Control has first-hand experience of best practice in this space, as we continue to progress towards our own goal of a fully electric fleet by 2025. We are confident this project will demonstrate the power of businesses working in partnership in achieving sustainability targets - like-minded companies finding solutions together is key to making real progress.
Catherine Colloms, MD for Corporate Affairs & Brand at Openreach said:
We're serious about our responsibilities to the planet and the communities we serve. As part of that we've pledged to be a net zero business and switch the bulk of our commercial van fleet to zero emissions by 2030. This partnership with Ground Control has allowed us to take a leading role in supplying charging infrastructure for our engineers, something we've been pushing government to support on too. We'll continue to push for change as, like others, we face shortages in the vehicle supply chain especially when it comes to range, functionality and choice. For some vehicle types there is simply no option yet. Therefore it's imperative that Government pushes ahead with the ZEV mandate so that we can lead the world when it comes to decarbonisation.
Andrew Kirkby, Senior Manager, Sustainability at Openreach said:
Ground Control's expertise in the Electric Vehicle charging infrastructure space makes them the ideal UK partner to help us continue to reduce our carbon emissions. Charging points at engineers homes will help them play their part in becoming more sustainable whilst also giving them the comfort they need when it comes to range, getting from A to B and keeping our customers connected . We're looking forward to the continued partnership with Ground Control.