Case Study
Putting EV Charging on the map with Ordnance Survey
Upgrading infrastructure and mapping an EV future at OS Head Office
Working on a tight timeframe to minimise disruption at Head Office, Ground Control worked with CBRE and Ordnance Survey to install 15 new twin EV charging units and support OS in their goal to reach a fully ULEV fleet by 2024
Project Overview:
Ordnance Survey is the national mapping agency for Great Britain with a Head Office based in Southampton and a business goal to reach a fully ULEV fleet by 2024. They already have a large fleet and range of sites managed by CBRE, but required an essential EV infrastructure upgrade to their Head Office.
This new and upgraded EV Infrastructure will support Ordnance Survey's EV and Hybrid Fleet, and it was essential that the delivery of works didn't interrupt the end client's daily functions
Scope of Works:
Working with CBRE, we designed a solution that replaced and upgraded the preexisting hardware on-site, creating one streamlined system, alongside this was the installation of 15 twin 22KW outlet charging units with a web-based management portal.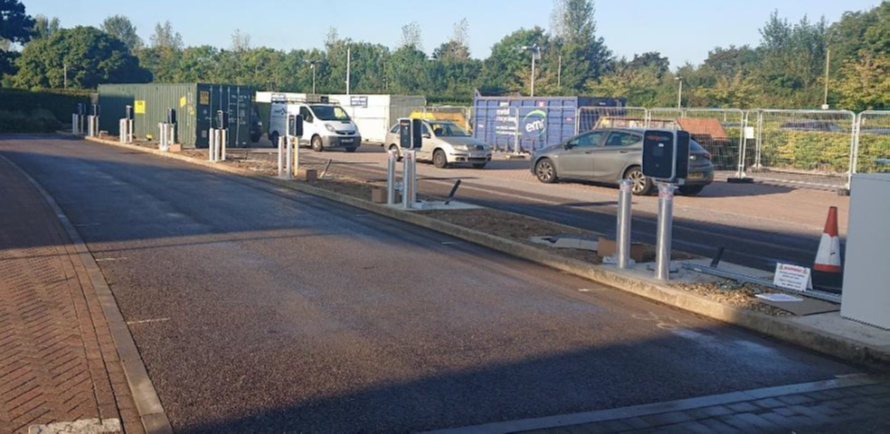 The project was completed in 5 weeks, within this timeframe Ground Control completed the installation of 15 new twin EV charging units. To complete this, works included:
Replacing and upgrading 5 charge points in a pre-existing location, as well as adding a further 2 charging points in this area.
Creating 8 new units in a new location, which as a result also included the installation of a new electrical supply.
The installation of new units required a new external distribution board, and it was therefore necessary to 'dig up' sections of the car park and access roads. To minimise the impact during the works, Ground Control worked closely with CBRE and Ordnance Survey and communicate key times for access.
A collaboration ensured that onsite EV charging capability was interrupted for a minimal period and the interruption to day-to-day operations at the office was minimal. 
Tom Goodman, (Senior Operations Manager - EV) commented:
We're excited to continue our works across the CBRE portfolio and deliver support to companies like Ordnance Survey. It has been a fantastic project and a great step toward their ULEV fleet goals.
Working on a tight timeframe to minimise disruption at Head Office, Ground Control worked with CBRE and Ordnance Survey to install 15 new twin EV charging units and support OS in their goal to reach a fully ULEV fleet by 2024