The housing link to transport decarbonisation
Reviewing the on-stage discussion from the Unlock Net Zero stage

What does the climate emergency mean for transport and housing? The Unlock Net Zero stage at the CIH Housing Exhibition explored this on stage as Grace Carroll (Head of home, workplace, and destination EV charging policy, Office for Zero Emission Vehicles), Derek Watters (Head of environmental sustainability, Places for people), Rachel Toms (Director of urbanism, Sustrans) and Cllr Helen Hayden (Leeds City Council) discussed "The housing link to transport decarbonization".
"To meet the greenhouse gas emission targets for 2050, significant change is required"
Rachel Toms introduced the concept of '20-minute neighborhoods', that enable people to achieve most of their daily activities within a walkable or cyclable 5-mile radius. Where this is not possible an integrated and reliable public transport system must support it. This sustainable transport model requires a real behavior change in how we live and move.
Derek Waters added that to move forward it must be 'part of the plan', in relation to sustainable transport links, and EV infrastructure. A point echoed by Grace Carole (Office for Zero Emissions) who added 'homes must be futureproofed'.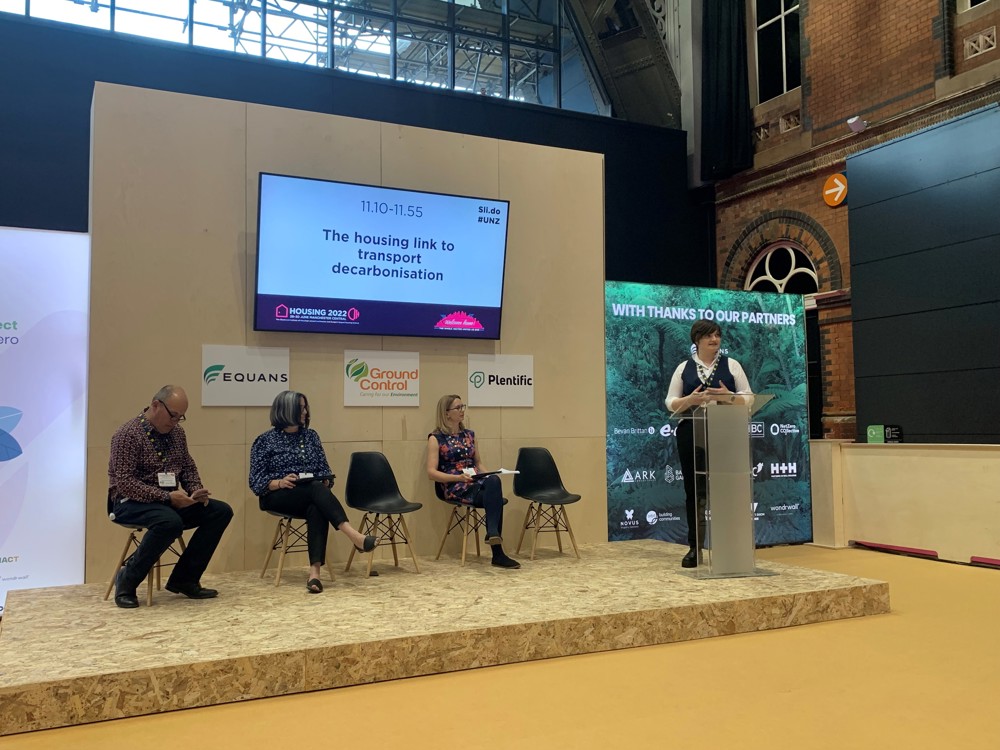 At Ground Control, our Phase Two works at Waterbeach Barracks will build on our phase one sustainability and include a sustainable transport hub for community use, with interconnected footpaths, cycleways, and wildflower planting. It is also important for infrastructure to be in place to support this, highlighted as we also work with companies such as Evergreen Marine to install workplace charge points and enable access to charge points for those who don't have home access.
A further example of action was outlined on-stage by Councilor Helen Hayden, who shared the work of Leeds City Council to create fully electric park-and-ride bus services that ease congestion in the city, reduce emissions, and support a clean air agenda which in turn supports the health and wellbeing of residents.
The clean air agenda is an additional benefit of the EV transition that was explored in our 'Clean Air Day' article, which outlined some exciting works of Ground Control that support the clean air agenda.
The conclusion of the session on the UNZ stage reflected on the use of space to enhance communities and not create a disparity in neighborhoods. Where EV charging is not available on private driveways, infrastructure is key. With On-street Residential Charge Schemes (ORCS) providing a retrofit option to current communities, and legislation to provide access to EV charging in new homes, it was highlighted by Grace Carroll that:
We need to be making better use of the spaces available to us.
The climate change agenda was also discussed by Sam Jones (Housing Sector Lead) as he joined an esteemed panel on the Unlock Net Zero Stage to discuss 'How the sector is adapting to the extremes of climate change'.