5 aspects of sustainability at Waterbeach Barracks
A short review of our Phase 1 works, creating sustainable green spaces with Urban&Civic

We're delighted to announce, as we roll into summer, that we are finishing our phase 1 works at Waterbeach Barracks, an exciting new community being developed by Urban&Civic, a company that proudly puts "sustainable value at the heart of what we do".
The development is designed to provide modern housing that integrates with green spaces, sustainable transport and community living in Cambridgeshire; allowing people and nature to flourish.
As our works continue, here's "5 aspects of our sustainable works" at Waterbeach Barracks.
Woodland Management Works
We pride ourselves in bringing together humans and nature and allowing them to flourish. On the boundary of Waterbeach Barracks our woodland management works are creating safe woodlands that can be explored by the community, with specific spaces for wildlife and the environment to flourish.
Alongside creating and encouraging local biodiversity, a safe woodland allows the community to gain mental and physical health benefits, whilst actively learning about the land surrounding their homes.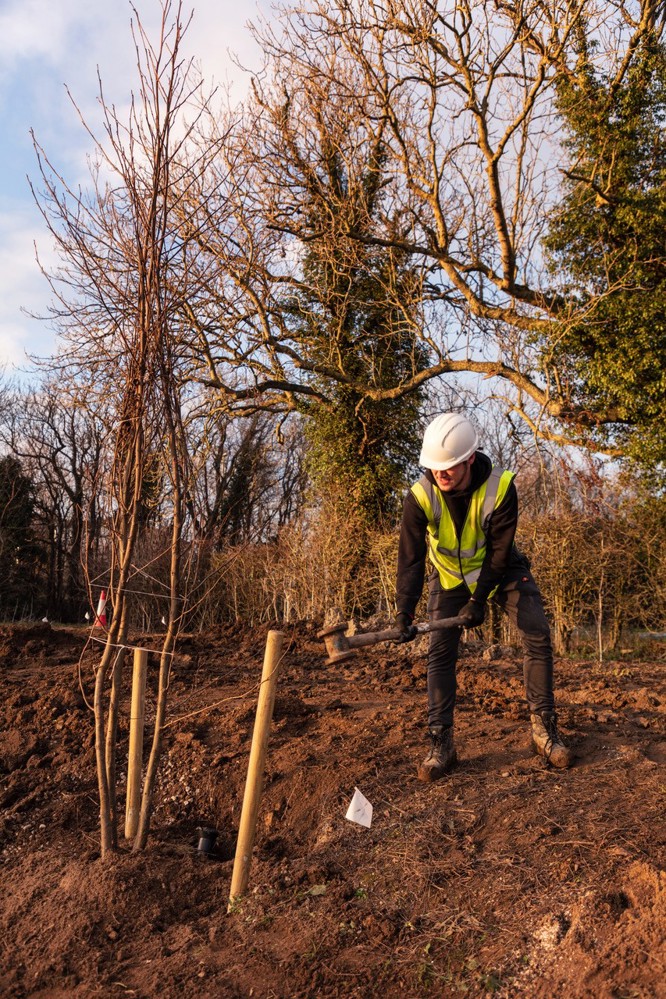 Native Planting
We have been planting a mix of trees and shrubbery to provide a diverse and rich understory, planted with a focus on native species. This creates wildlife habitats and a sustainable ecosystem that we hope to see flourishing for years to come, and can be seen throughout the woodland, landscaping and wildflower planting.
Our native planting is supported by our specialist ecologists to ensure we plant species suitable for the soil conditions, local wildlife and that complement the habitats surrounding them.
Varied Ecosystems
As we ended the planting season, our focus moved towards marginal and aquatic planting in the surrounding lakes, planting native species that will flourish in this wetland ecosystem. This will provide an important part of the wider ecosystem, including food, habitats and security for local species.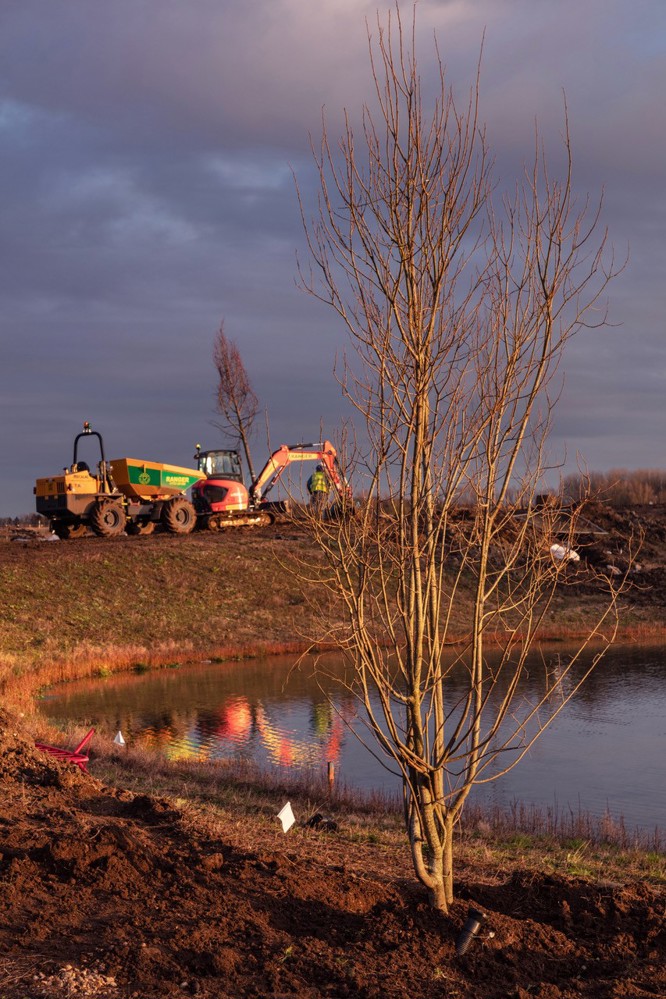 Preparation is Key
Looking ahead to phase two, our teams will be undertaking preparation works for seeding and turfing, as well as the spreading of wildflowers that will be in enjoyed in future by residents and wildlife alike.
Planting wildflower throughout the site provides pollinators and insects food, pollen, shelter and places to breed, as well as looking incredible for residents and surrounding communities.
Day to day changes
We have trialed a new generation of welfare cabins at Waterbeach Barracks. The 'ECOXLi Welfare Unit' is equipped with solar panels and rainwater harvesting technology and is a new day to day change we've made and tested on this project.
Our Summer Priorities (Phase 2)
Moving into the summer, our next phase of works include creating a wildflower meadow surrounding the SUDS, and a  species rich lawn. In addition, our Electric Vehicle (EV) teams, will be installing chargers in the 'Sustainable Travel Hub', which will also include landscaping and planting over 1,200 trees.
Sophie Frost (Senior Operation Manager) added:
We're really proud of the work of our teams at Waterbeach Barracks and we're excited to continue the project with Urban&Civic. It's great to be working on a development that puts the environment at its heart.
Our works at Waterbeach are very exciting.  Not only do they support both our and Urban&Civic's environmental goals, but as we move through the project we're creating functional green spaces for the future communities to enjoy.
Join our LinkedIn Housing & Communities group and be part of the conversation about 'creating and pioneering sustainable environments that work for those living in our communities'.