The EV Rally of Scotland
A 600-mile, two-day journey to test and showcase EV infrastructure

Comprising 13 teams, the EV Rally of Scotland is a 600-mile journey that showcases and tests the EV infrastructure throughout Scotland. This year's event was hosted as part of GreenFleet Scotland.
With the ability to create bespoke electric vehicle charging solutions for commercial companies and their fleet, and with the in-house knowledge to support a company throughout its decarbonization journey, Team Ground Control joined the grid for the first time with the aim of showcasing Scotland's EV infrastructure, challenging perception of EV travel and proving that now is the time to make a change with your fleet.
Is it possible to travel to remote parts of Scotland in an electric vehicle? Andy Barnett, Digital Marketing Manager, shared his account of the EV Rally of Scotland, where he was joined by Chris Hart, Business Development Director. 
Day 1: Glasgow to Aviemore
For anyone heading towards the famous NC 500, snowboarding in Scotland, or exploring the Cairngorms National Park, Glasgow to Aviemore is a well-driven route. However, to test the infrastructure in several cities and regions, our route was a little different as the rally took us through 4 checkpoints before arriving in Aviemore.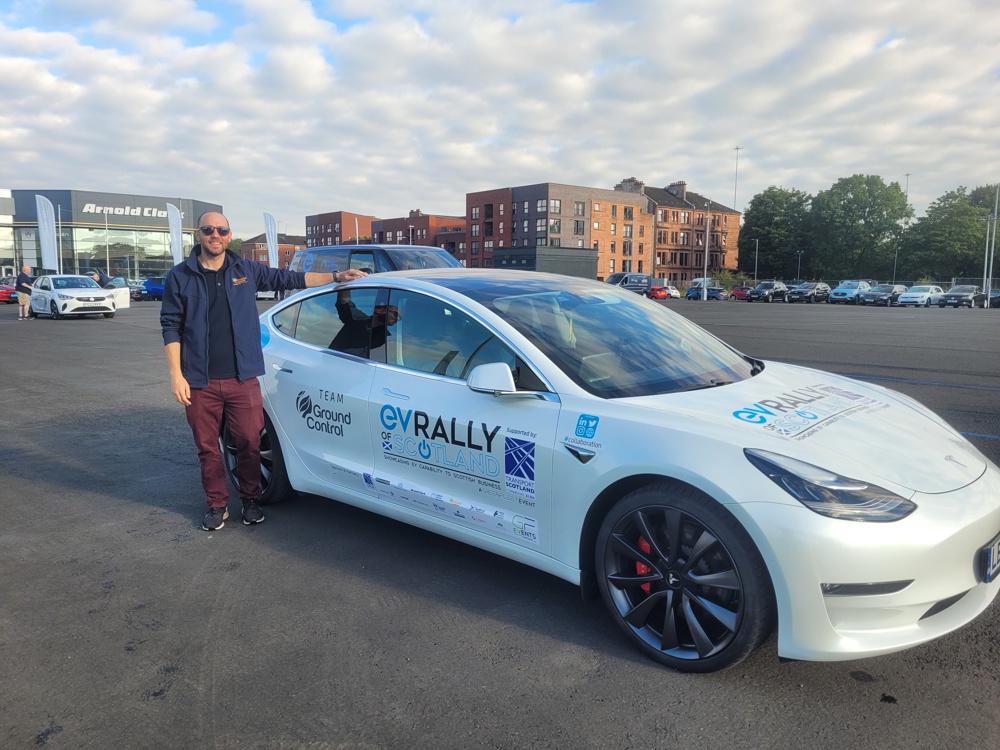 These checkpoints gave ample opportunity to charge, with checkpoints one and two at the EV Hub at Falkirk Stadium and the 4th Hub at Dundee. These are both terrific charging hubs, however, to be honest, we went off-grid, and using Zapmap found a community center with a low-cost rapid charger, and much more importantly, a really good cake shop.
Tip: Zapmap is an easy-to-use map that shows charger locations, charging speed and availability – easily alleviating range anxiety and allowing us to plan our travel and charging in line with meetings.
From here, our route took us to more remote locations as we travelled out of major cities into Braemar, which took us to around 150 miles of the first day. Whilst our range meant we didn't need to charge in Braemar, I was impressed to see the local authorities taking the initiative to install charging stations at public locations. From a business perspective, this highlighted to me that EV infrastructure is not 'a big city thing' and I could happily make the switch to EV, and from a personal one, it showed that I can explore the Cairngorms National Park in an EV without worry.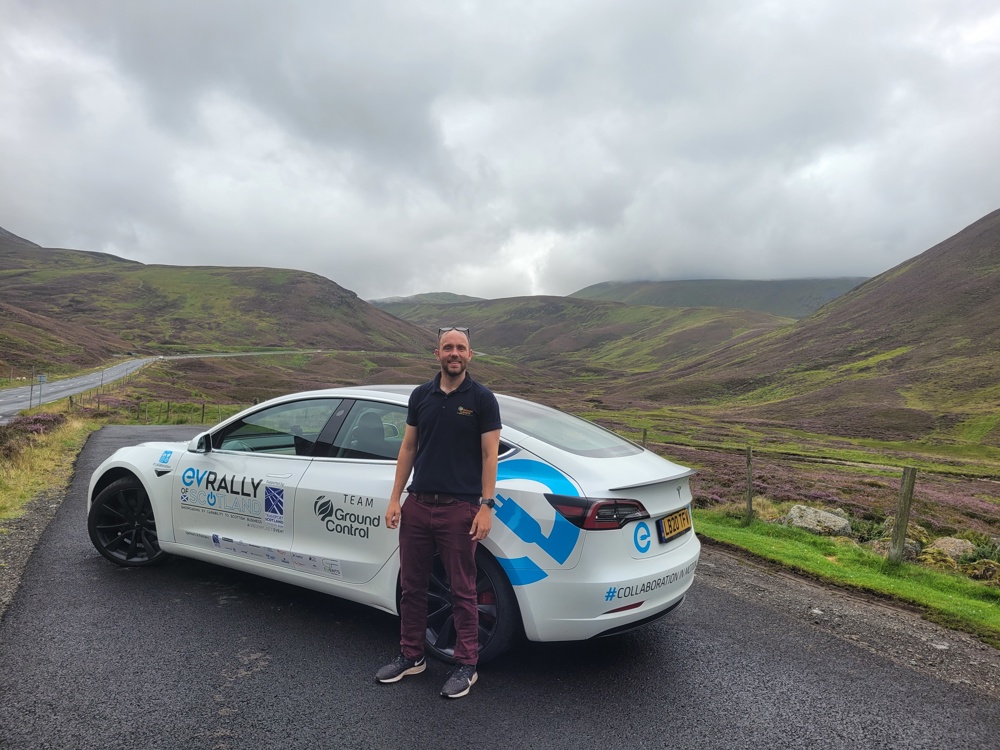 The final part of day one saw us head up to a Ground Control customer Altens Lorry Park in Aberdeen for a short charge and a well-earned lunch break, before traveling via the famous Standing Stones to Aviemore.
This completed day one. We had covered ~300 EV miles, eaten a whole pack of Tunnock's Tea Cakes, and drank a few cans of Irn Bru. Most importantly, as someone looking at switching, I had complete confidence in EV.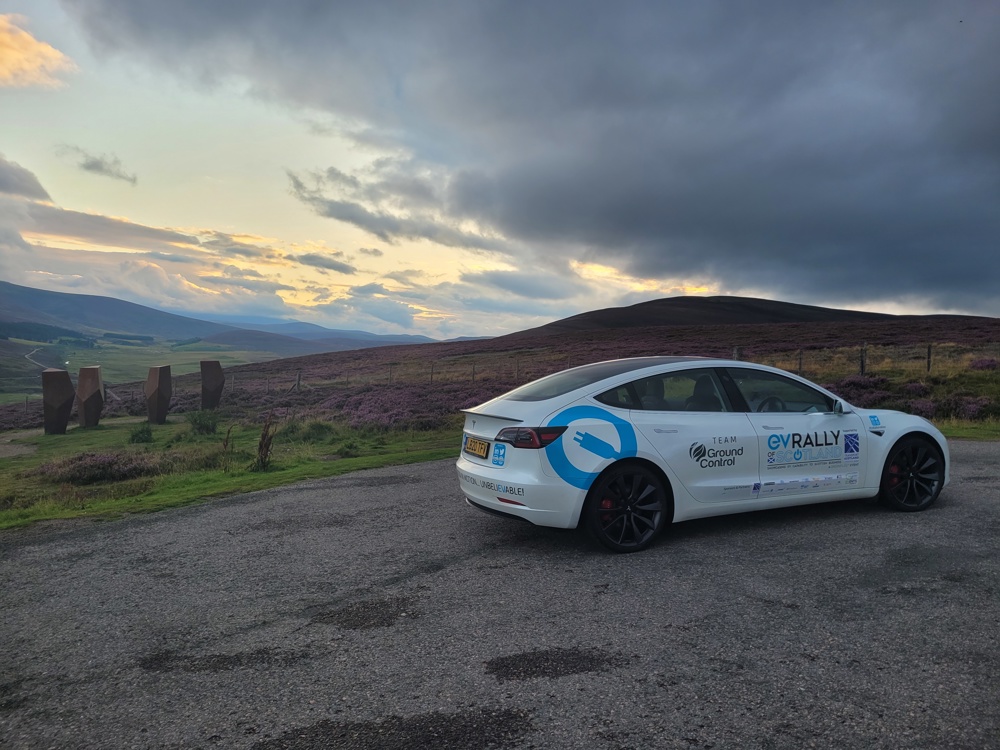 Day 2: Aviemore to Glasgow
We have heard of 'range anxiety' but after a successful day one, I awoke to a new issue…fitness anxiety. I had confidently and publicly declared that I was going to run around the Craigellachie nature reserve before breakfast, and as part of Team Ground Control, I had dug myself a hole that I had to run myself out of.
The true start of the second day saw checkpoints at the Caledonian Stadium on the banks of Moray Firth, home to Inverness Caledonian Thistle FC, before crossing the Kessock Bridge to Port of Cromarty Firth. For those sports fans amongst us, I had lined up the headline "Super Caley go electric, petrol's are atrocious" to share at the Caledonian Stadium, but I felt it was too niche.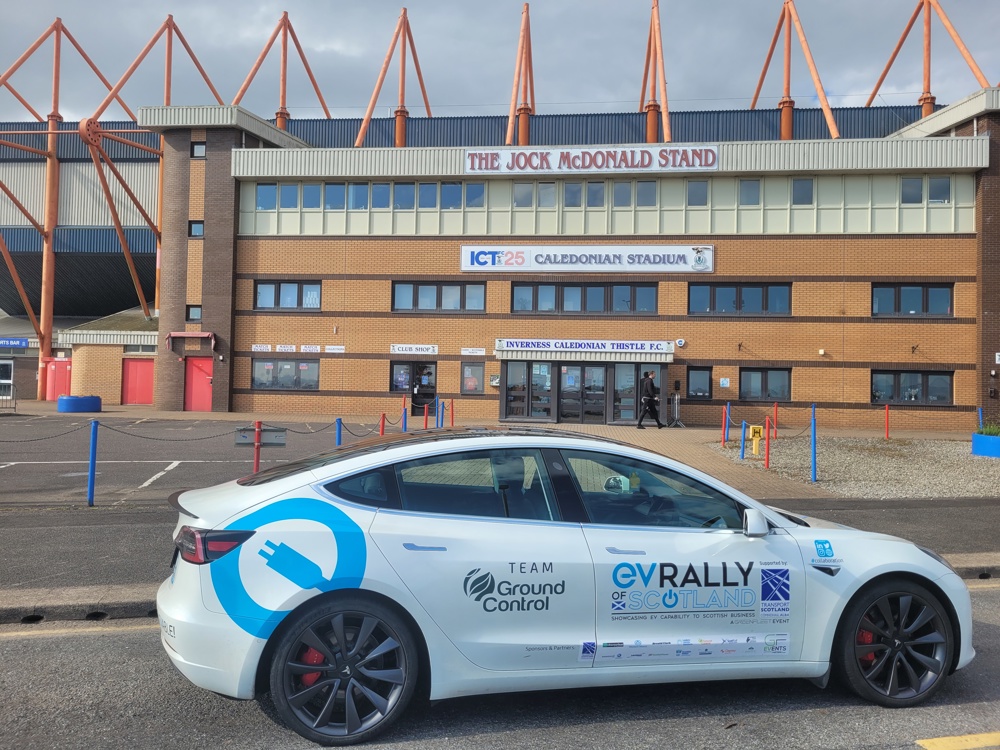 The route then checked in at 'The River Ness Hydro scheme', a hydroelectric power twin turbine project that will generate an estimated 550,000 kWh per annum. Here, we took the opportunity to understand the need to consider the power sources for EV infrastructure.
Tip: To make EV charging solutions and migration to an electric fleet sustainable, consider how your power is produced and look at clean energy!
From this point, we continued through the Highlands and charged at Fort Augustus thanks to the Highland Council infrastructure that included a range of different charges. We chose not to take up the rapid charging spot as we were also grabbing lunch at this location.
Tip: Take a moment to locate a charger that suits your needs. You don't always need a rapid charger, and there are a range of different power options.
Finally, the rally continued away from Loch Ness to Glencoe and finally back to Glasgow, a stunning couple of hundred miles of scenery, which took us to the end of the 600 miles round trip.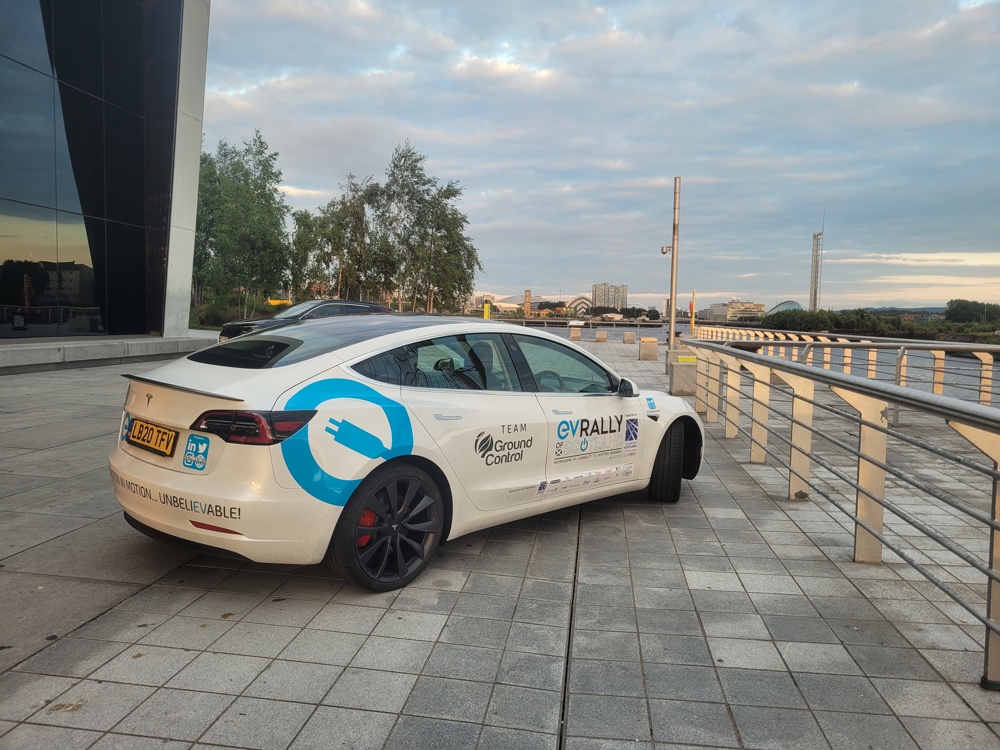 So, is it possible?
The answer is a big, huge yes. I have left the EV rally with the confidence that I could switch my personal car, or any Ground Control fleet vehicle, to an electric vehicle.
The event tested EV infrastructure, not only by adding more EVs than usual into an area, but by the very nature of a rally, vehicles converged on the same charging checkpoints at the same time, yet all the vehicles completed the rally.
My takeaway…
As part of the EV Rally rules, we only used chargers linked to ChargePlace Scotland. The reality is even brighter with charging hubs and opportunities from other providers, all available in every location we visited on the rally.
However, according to ZapMap, the UK saw a 40% increase in the number of battery-electric cars registered in 2022, compared to 2021, and with the end of the sale of new petrol and diesel cars in the UK by 2030, infrastructure will need to continue to grow in line with demand. That means more destination charging, public chargers, and importantly, businesses taking the initiative.