Green Gains Live wraps up with action for nature
Ground Control's environmental summit dedicated to nature recovery calls a wrap on its exciting annual cross-industry event held Thursday 7th July 2023.

Green Gains Live, Ground Control's environmental summit dedicated to nature recovery calls a wrap on its exciting annual cross-industry event held Thursday 7th July 2023. Public and private sector landowners, government bodies, conservation organisations, financial institutions and biodiversity experts came together to act for nature through innovation, knowledge-sharing and networking.
During the daylong event, Green Gains Live hosted over 100 delegates, 20 speakers, and 10 sessions. The renowned programme was designed to help landowners to unlock the potential of land for people, place and planet by putting the most pressing problems at the forefront of the sustainability conversation, helping to spark debate and formulate solutions to problems.
With biodiversity net gain a more relevant topic than ever, Ground Control's expansive summit was specially curated to drive an understanding of where nature sits within wider net zero and business strategies. The event's overarching theme 'Nature in Balance' caused delegates to consider how biodiversity and carbon are best tackled together and innovative, best-practice approaches to on-the-ground action were showcased throughout the day's sessions.
Ground Control shared learnings through its brand new break-out programme, which saw Plantlife, Bumblebee Conservation Trust, Wildfowl & Wetlands Trust, Earth Watch, Tree Council and other partners present practical small group sessions.
In addition to sharing innovation and best practice, Ground Control wanted to provide delegates with the opportunity to ask questions and explore ideas with cross-industry peers. One of Green Gains Live's keynote speakers, Ian Dunn, CEO of Plantlife International observed:
The event is a real testament to the approach by Ground Control in this arena. Nature recovery is critically important and therefore so great to see so many and such diverse attendees. 
Making macro debates centre stage
Ground Control was overwhelmed by the turnout, and delegates displayed a genuine enthusiasm and actively participated in the question-and-answer sessions, leading to some great debates. Throughout the event, seminars proved so popular that many sessions had standing room only.
On the main summit stage the day began with a rousing welcome address from Kim Morrish, Director of Ground Control who set the theme for the event, followed by a keynote from Ian Dunn, CEO of Plantlife who left delegates in no doubt why a world rich in plants and fungi is good for nature, climate, and us.
John Torlesse of Natural England chaired the panel debate - 'Nature in Balance: Moving from Risk to Resilience'. Sophie Stephens, Head of Sustainability & Environment, Ground Control, Richard Ellis, Head of Sustainability, Peabody, Andrew Kirkby, Sustainability Manager, Openreach, Neil Strong, Biodiversity Strategy Manager, Network Rail, and Neil Bolt, Client Group FM Director, JLL discussed the increasing imperative to enhance nature - all while mitigating the risks of climate change and accelerating the net-zero transition. Sharing valuable insight, expert opinion, and learnings, considering the increasing ambition to 'do the right thing', and unpacking the changes we're going to need in procurement to make a business case for nature.
Andrew Kidd, Sustainability Director, Lower Thames Crossing kicked off the post-break session with an update on this nationally significant infrastructure project and shared insight into the power supply chain partnerships will have in successful delivery of the greenest road every built in the UK.
Chris Bawtree, Nature Recovery Director, Ground Control and Matt Nokes, Technical Director, Ground Control provided a progress update from Wildfell, Ground Control's 296-acre nature recovery laboratory in North Essex. In addition, the session walked the audience through a showcase of eight client projects, each an exemplar in green / blue recovery and biodiversity net gain.
After lunch, the afternoon programme kicked off with a keynote from Sarah Fowler, CEO of Wildfowl & Wetlands Trust who discussed the importance of wetlands, shared plans to create 100 acres of wetlands across the UK, and remarked how every landowner has the opportunity to contribute to a healthy blue infrastructure through the use of sustainable urban drainage systems.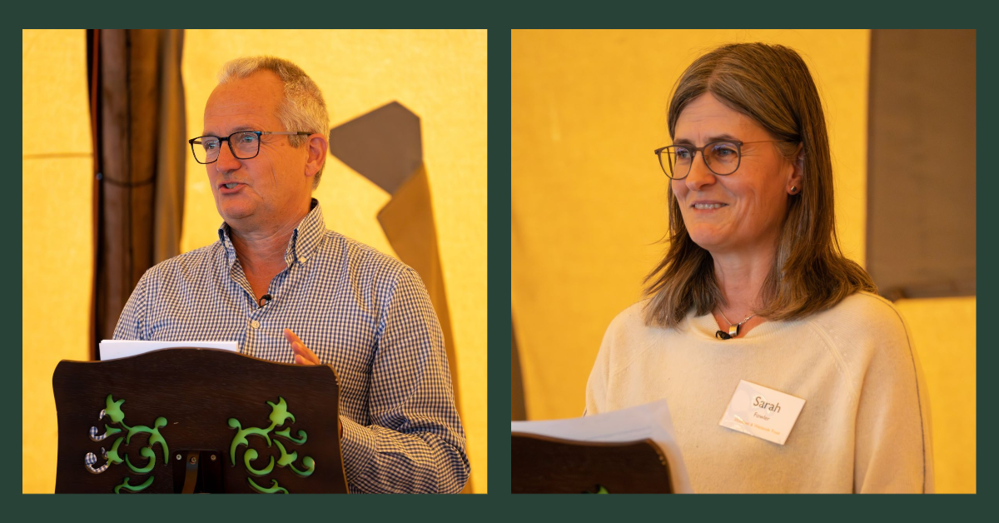 Moving from 'Why' to 'How'
After the main tent programme drew to a close, delegates were invited to branch out into breakout sessions, each session providing a practical deep dive into the tangible changes landowners can make now to achieve change.
Matt Goddard, Head of Design, Ground Control hosted 'Blue recovery: SuDS and the future of healthy urban watercourses' in collaboration with John Brewington, Regional Development Manager, Severn Trent and Joe May, Project Manager, Wildfowl & Wetlands Trust. Together, presenters provided attendees with a showcase of the Severn Trents project in Mansfield and shared insight into the role nature-based solutions such as sustainable urban drainage (SuDS) and rain gardens will play in mitigating flood risk caused by climate change, and positively impacting the wider wetland agenda.
Chris Chippendale, Senior Landscape Architect, Ground Control hosted 'Urban Greenspace: What happens when we make room for nature?' in collaboration with Andy Benson, Senior Education Officer, Bumblebee Conservation Trust (BBCT) and Mark Scofield, Road Verges Advisor, Plantlife. Together, presenters provided learnings from Ground Control's client project for JLL at Churchill Sq, the BBCT Bee the Change RHS Chelsea Garden, and Plantlife's extensive studies into the impact of wildflower meadow cultivation on road verges and within build environments.
Kevin Slezacek, Head of Arboriculture Consultancy, Ground Control hosted 'Micro Forests: What are they and what is their value?' with Hannah Davidson, Tiny Forest Project Manager, Earthwatch Europe, and Jackie Shallcross, Woodland Programme Research Lead, Tree Council. This masterclass-style session unpacked the tried and tested approach to a micro forest project. Walking attendees through a step-by-step process from site section, through to design, implementation and ongoing stewardship. How to fund. Partners to engage with. Sharing key learnings from Severn Trent's Commonwealth Games 'Commonwealth Forests'.
Chris Bawtree, Nature Recovery Director, Ground Control led attendees on a 90-minute 'safari' tour of Little Cowbridge Grange, Ground Control's first nature recovery site. Chris was joined by contributor presenters Jill McNaughton, Farming & Wildlife Advisory Group (FWAG East), Ben Hart, Carbon and Biodiversity Accounting Consultant, Highlands Rewilding, Bex Cartwright, Senior Conservation Officer, Bumblebee Conservation Trust, Steve Scott, Director Forestry Services, Forestry Commission and John Meehan, Head of Sustainability & Resilience, Essex County Council. During the three-stop tour, which took in Ponds & Wetlands, Woodland Creation, and Grassland and Scrub habitats, Chris and his co-presenters shared insight for landowners considering how to best utilise landbanks to achieve biodiversity net gain, and carbon sequestration.
Green Gains Live 2023 ended in the same way it began with an optimistic outlook for the environment. Visitors left with renewed excitement and new knowledge of nature-based solutions and innovations in nature-positive land management and green/blue solutions. Although the annual live event is over, Ground Control works on providing content all year round.
To relive the event, the programme highlights will be available in the coming weeks.
Having received insightful feedback from visitors on what they would like to see at Green Gains Live 2024 the team is inspired to cover an even greater range of topics next year to again engage and challenge public and private sector landowners to do more for nature.