Our Bee the Change Garden at RHS Chelsea Flower Show
Ground Control and the Bumblebee Conservation Trust collaborate to deliver the "Bee the Change" Garden at the 2023 RHS Chelsea Flower Show

We're delighted to be collaborating with the Bumblebee Conservation Trust to develop a very special garden for this year's RHS Chelsea Flower Show. It's called the Bee the Change Garden and it will feature in the Discovery Zone of the Great Pavilion. This year's event will take place from Monday, 22nd May to Saturday 27th May. 
As a leading external maintenance business and a biodiversity pioneer committed to enhancing and improving the physical environment, Ground Control is proud of its collaborative relationship with the Bumblebee Conservation Trust. The Bee the Change Garden is the next in a series of pioneering joint projects that aim to create, maintain, and sustain optimal sites in which Bumblebees can thrive. This includes, Pinner Park Primary School and a formal pollinator collaboration at the Wildfell Centre for Environmental Recovery, our 296-acre nature-recovery laboratory in North Essex.
Bumblebees need our help
Habitat loss and fragmentation are threatening the survival of Bumblebees, so landscape design projects that incorporate Bumblebee-friendly planting have never been more important. That's one of the reasons why we were thrilled to join forces with the Bumblebee Conservation Trust on this initiative. The Bee the Change Garden will showcase some adaptive design ideas and demonstrate how an accumulation of small and simple changes can transform a garden with very little value to Bumblebees into a Bumblebee haven.
Recent research carried out by the British Ecological Society (BES) suggests that bigger gardens are not necessarily better for feeding pollinators. The most important elements are the decisions made by individuals. Gardeners are able to control habitat quality, if not quantity. The BES concluded that "by visiting multiple gardens which differ independently in plant species composition, pollinators have the potential to access a diverse and continuous supply of nectar in urban landscapes."
So, the key message we want visitors to the Bee the Change Garden to take away is that small changes in our gardens and managed urban spaces can have a multiplier effect and genuine positive impact on Bumblebee and pollinator conservation. As the RHS Chelsea Flower Show gets around 168,000 visitors each year the garden will be able to communicate this message to a lot of people.
Bee the Change campaign
The Bumblebee Conservation Trust are running a campaign called Bee the Change and the garden at the RHS Chelsea Flower Show ties into this. The campaign is all about quick, simple ways in which people can make their local areas more Bumblebee-friendly. It's well-known that Bumblebees do an amazing job of pollinating our crops and wildflowers, but as our towns and countryside change, there are fewer flowers for Bumblebees to feed on, so they need a helping hand to survive. Anyone can take part in this campaign. It doesn't matter where your land is and you don't need to set aside large swathes of external space.
About the "Bee the Change" Garden
The design approach for the Bee the Change Garden at Chelsea is that of a mirror garden – on one side is a modern, minimalistic style garden featuring a patio, closely mown monoculture lawn, ornamental water feature and clipped topiary – a garden which has clearly not been designed with Bumblebees in mind.
Opposite is a garden space which mirrors it, in that it uses a lot of the same materials and the same layout. But in this garden a number of small changes have been made to accommodate Bumblebees. Monoculture lawn has been switched for a flowering lawn with sections left to grow longer to allow Bumblebees to nest or hibernate. The water feature has been replaced by a small garden pond in the form of a Butler sink, so that Bumblebees have a place to drink. The topiary plants have been replaced by a pollinator rich herbaceous border with a diversity of habitat opportunities such as an underground nest, habitat boxes and log piles. The patio has been broken up providing gaps so low-level flowering plants like thyme can establish. Climbing plants and a green roof have been introduced to vertical spaces and fence lines replaced with species rich, flowering native hedgerow.
It's a small space – just 6 metres by 3 metres - but the mirror garden concept showcases the micro actions that people, and businesses, can take in landscape design and management which will improve habitats for Bumblebees. Ground Control is the lead sponsor of the garden, providing landscape design, materials and construction.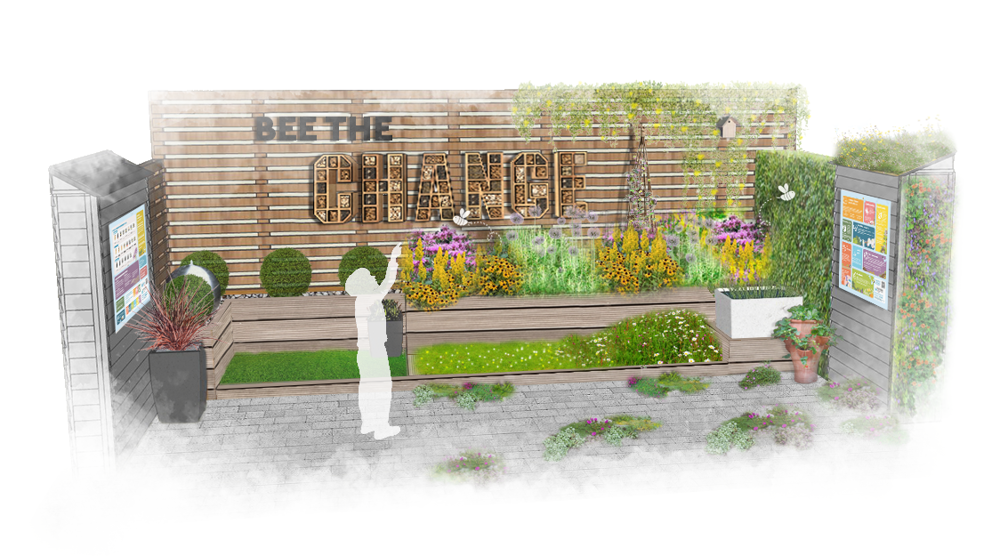 A garden that signals hope for Bumblebees
Speaking about the Bee the Change Garden, Brian Smith, Group Sales & Marketing Director at Ground Control said:
Our collaboration with the Bumblebee Conservation Trust is a great opportunity to demonstrate that managed green spaces can make room for nature. We're excited to share the nature-positive landscape design and management techniques on display in our garden at the RHS Chelsea Flower Show with clients across the UK. We believe these will inspire the landowners and managers we work with to integrate habitats to help save Bumblebees.

Gill Perkins, CEO at Bumblebee Conservation Trust, said:
Two species of bumblebees are already extinct, and two are on the edge. The Trust's collaboration with Ground Control at RHS Chelsea and beyond is making a big difference in reversing declines in bumblebees in the UK. Bumblebees are essential insects and by working with Ground Control we're providing nesting and hibernation sites with native hedges and micro forests, creating flower rich areas, and crucially raising awareness with the next generation through engagement with schools. Communicating why protecting Bumblebees and nature matters, and inspiring everyone to act, in a key goal for us and we're proud be at Chelsea spreading a positive bumblebee friendly message to all who attend.
Can Ground Control Help You?
If you're looking for more information about landscape design & construction, need to talk to someone about an enquiry or want to chat about your ecology & biodiversity service needs, then you've come to the right place. Please fill out our Contact Form below and a member of our team will be in touch shortly.