Case Study
Little Cowbridge
An in-house project creating over 22 acres of new woodland from existing pastureland in Essex with over 22,000 native trees and shrubs planted to create a new, multi-functional, broadleaf woodland
Working closely with the Forestry Commission, Environment Agency, Essex Wildlife Trust, Essex County Council, and utility companies to link existing environments with the River Wid, and interconnect different areas.
Project Overview:
Planted in 2019 after initial feasibility assessments and design, Little Cowbridge Wood is an in-house project creating over 22 acres of new woodland from existing pastureland in Essex.
Our landscape architects, ecologists, and woodland creation experts engaged stakeholders including the Forestry Commission, Environment Agency, and Wildlife Trusts to design the scheme, secure grant funding for the project, and plant the woodlands. The site is validated with the Soil Association and registered with the Woodland Carbon Code with a forecast of 4,907 tCO2e sequestration by year 100, and is now under a long-term woodland management plan.
Over 22,500 trees and shrubs were planted as part of the scheme which includes 10 productive oak blocks, a wet woodland, and various habitat interventions including; grassland improvements, hedge development, and hibernacula creation.
Design:
Ecology and feasibility assessments
Scheme created by landscape architects
Woodland Creation & Planting 
Native woodland creation
Wet woodland creation
Ongoing maintenance and replacement 
The in-house project worked simultaneously with our ecology team, woodland creation experts, designers, and green greens solutions teams. 
Key partners also included:
Forestry Commission
Environment Agency
The Wildlife Trust
The site is the home of Green Gains Live, an event that brings together landowners, corporate leaders, biodiversity experts and public bodies to reverse the decline in the UK's natural environment and develop a Nature Recovery Network. The event includes tours of Little Cowbridge Wood showcasing how nature recovery can be implemented on a site scale.
Scope of Works:
The works at Little Cowbridge Wood have three distinct areas: design, planting, and ongoing maintenance along the following timeline.
2016 | Project Inception
2017 | Forestry Commission engagement for site preparation and grant applications
2018 | Commencement of planting 
2019 - present | Completion of planting transitioning into maintenance 
2021 | Woodland Carbon Code validation 
The successful scheme has seen the site highlighted as a best-practice habitat as part of Green Gains Live ecology tours.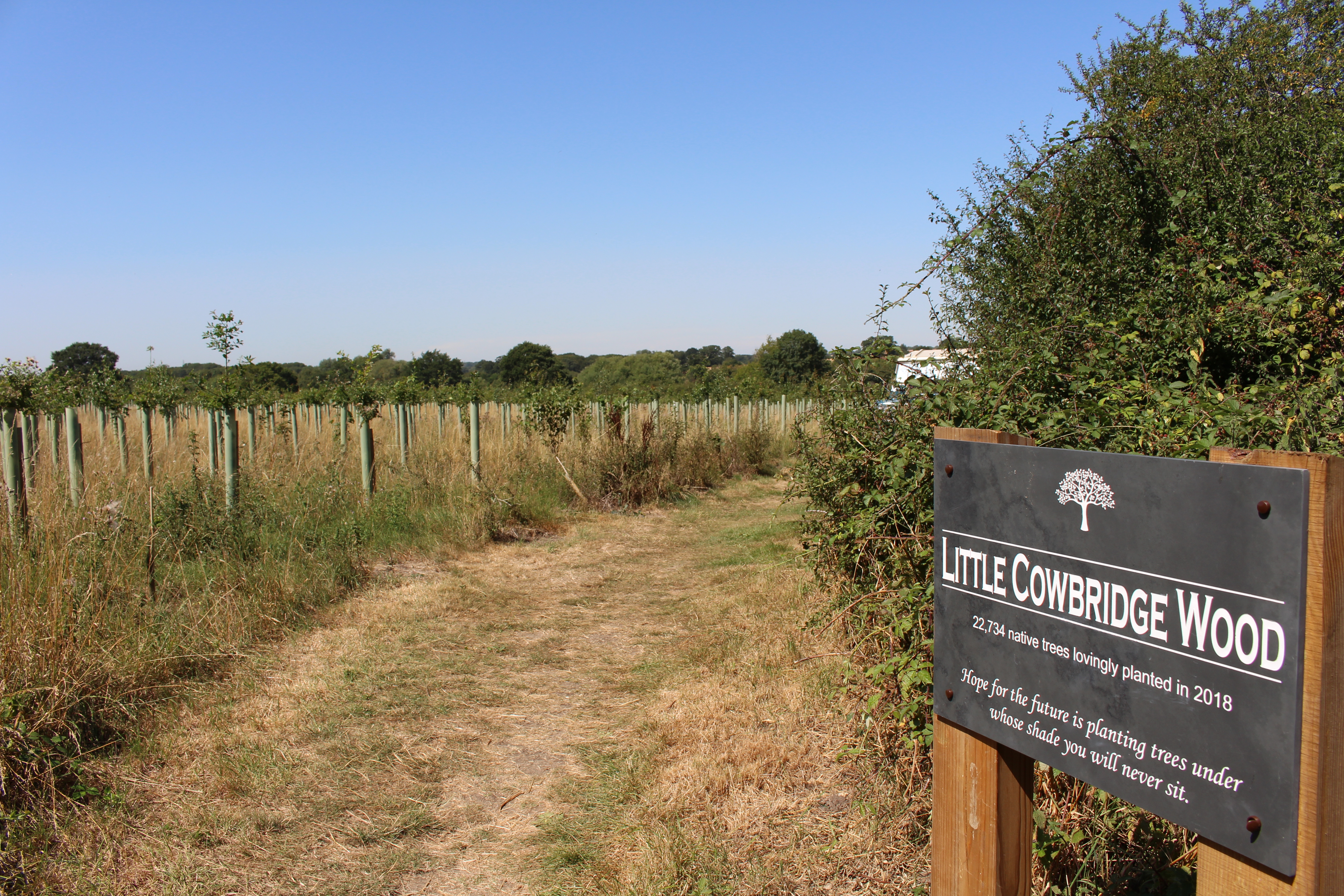 Feasibility Assessments, Design, and Plant Selection
Key design strategies considered and subsequently implemented as part of the design include:
Maximising the connection with the River Wid. The aim was to create a riparian margin with increased open space and group planting that manages the light levels to the river as well as the creating a wet woodland
The creation of oak blocks. The scheme included ten 30m x 30m productive oak blocks planted at 6,600 stems per hectare
Prioitoristing connectivity. To achieve this, the project created a series of nature routes through the woodland to connect the different areas, whilst not interfering with the existing Public Right of Way
With these considerations in mind, the design dictated a mix of UK native trees and shrub species in an 85:15 ratio of trees to shrubs to allow the creation of woodland edges, adjoining rides, and open space. Amongst the shrubs was a mix of hazel, dogwood, gulder rose, and wild privet, with 15 different species of trees, including: alder, hornbeam, oak, and sycamore.
An area of wet woodland was designed with species such as willow and alder that would thrive on the existing River Wild floodplain.
Planting and Maintenance
In total, 26 species of plants were planted from November 2018. The mix of species used ensured the woodland will be resilient to climate change and deliver the multiple benefits it is designed for. Most of the stock was planted with 1.2m tree shelters to protect against browsing and to further enhance the growing conditions. The remainder of the stock was protected by 60cm rabbit spirals.
During this planting, drainage was installed to 11 acres of the site to alleviate waterlogging and improve soil conditions to ensure successful establishment and development of the tree stock.
The planting density was 2,500 stems per hectare with ten 30mx30m pure oak blocks planted at 6,500 stems per hectare for quality hardwood timber production.
Since planting, Ground Control has continued to maintain the woodland.
Beyond Planting:
In addition to the woodland creation undertaken at Little Cowbridge, the estate has also adapted to incorporate a number of other sustainable interventions. These include the adoption of renewable energy in the form of wind, solar, and battery storage of which the estate is now fully self-sufficient in its energy needs. Additional enhancements include the creation of a new orchard, enhanced grassland management, introduction of beehives, and invasive species management across the site.
Working closely with the Forestry Commission, Environment Agency, Essex Wildlife Trust, Essex County Council, and utility companies to link existing environments with the River Wid, and interconnect different areas.