100 trees planted at Madingley Hall, University of Cambridge
Celebrating 50 Years of Ground Control with Equans volunteers
Our fantastic teams and employees are reaching out to clients to engage in planting projects, community activities, and causes that matter to them, all to showcase Human Nature: At Its Best and to celebrate '50 Years of Ground Control'.
Curtis Chrzan, Field Pricing Coordinator, and Kane Gibbs, Contract Manager, both with our Grounds Maintenance division, facilitated a volunteer planting project at the University of Cambridge with Equans, one of our Facilities Management clients.
In advance of the volunteering days, Curtis Chrzan from Ground Control, managers from the University of Cambridge, and the Equans Manager for Madingley Hall met to discuss the coordination and sourcing of tree stock and to create an action plan for the volunteers.  
Planting Days
Across two planting days in February 2023, all 100 trees were planted on-site. The days consisted of a health and safety briefing, tree species information, and a planting demonstration to allow volunteers to safely and effectively plant.
The diverse tree species mix was selected to create opportunities for future biodiversity and provide food, shelter, and security for native species., and included:
Pinus sylvestris (Scots Pine)
Carpinus betulus (European Hornbeam)
Quercus robur (English Oak)
Tilia cordata (Small Leaved Lime)
Quercus Ilex (Holm Oak)
With numerous volunteers, representatives from the University of Cambridge, Equans, and support from Ground Control Grounds Maintenance, the diverse tree mix was successfully planted.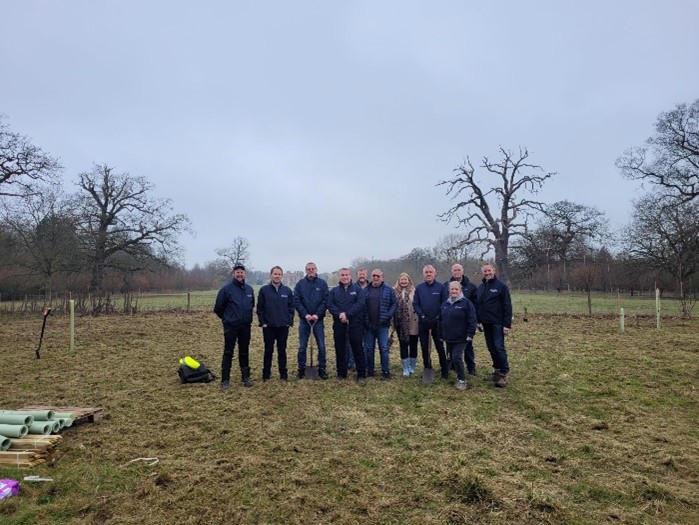 Upon completion, Equans manager followed up the day to add:
A thank you to you [Curtis Chrzan] and the team that attended Maddingly Hall for the tree planting and for supporting and guiding the volunteers. The whole exercise was conducted in a well-organized and professional manner, and the operatives were accommodating and friendly around the volunteers.
Throughout the event, Ground Control experts also checked and ensured the quality of planting to ensure guards, stakes, and watering was all to the highest standard, giving the best chances of the tress establishing.