Matt Goddard, Head of Design at Ground Control, takes to the NetZero stage at Utility Week Live
Joining an expert panel debate on "Creating more opportunities for nature-based solutions"

Every year Utility Week Live brings together thousands of utility professionals on a multi-day event that displays and discusses the latest innovations and insights.
As biodiversity pioneers in this sector, Ground Control sponsored a session on the Net Zero Stage, which bought together inland water professionals to discuss how "Nature-based solutions have a key role to play as the climate crisis deepens". Experts debating the challenge were:
Dr. Amina Aboobakar, United Utilities and the Rivers Trust, on "Taking a systems thinking approach to delivering transformation at scale and addressing standardisation"
Dr. Clare Deasy, Strategic catchment manager, Northumbrian Water Group, showcasing "Evidence of action - enabling the incorporation of catchment and nature-based solutions into water company planning"
Graham Weston, Wastewater treatment and sludge strategy manager, Yorkshire Water, "Addressing standardisation of NBS"
Matt Goddard, Head of Design, Ground Control, showcasing "Building with Nature for an ideal future"
Speaking on the Net Zero Stage at Utility Week Live, Matt Goddard Head of Design at Ground Control investigated the circumstances that are preventing wider uptake of nature-based solutions in the urban environment. This presentation took a detailed look at missed opportunities, lessons learned, and examples of best practices across the UK, which included a plan of action to facilitate the uptake of nature-based systems.
In December 2022, Ground Control launched a ground breaking 'Time To Act' report, which frames the discussion surrounding the UK Biodiversity crisis, and the importance of nature-based solutions.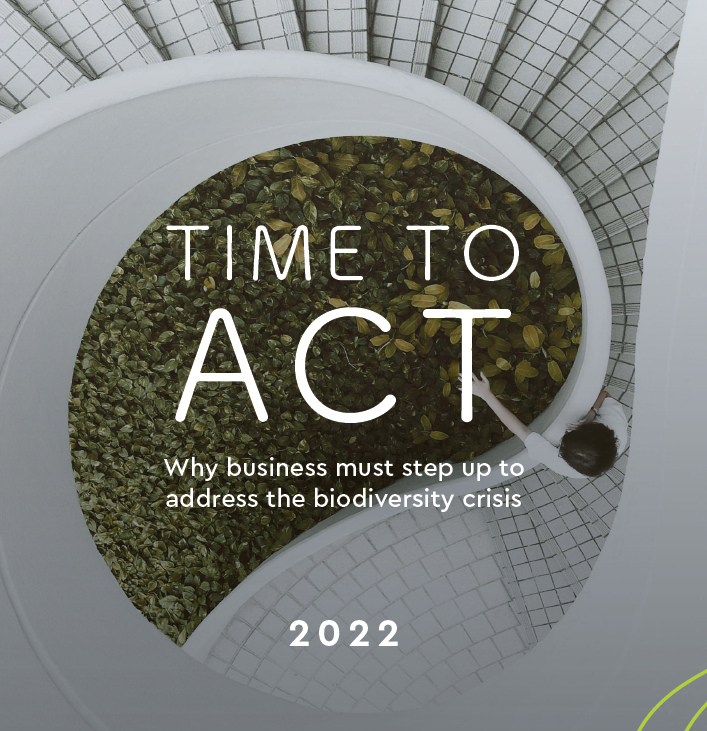 Throughout the session, speakers shared their views on the role nature-based solutions must play, with the following review reported from the event.
Dr Amina Aboobakar, United Utilities and the Rivers Trust
During their presentation, Dr. Amina Aboobakar highlighted the importance of integrating nature-based solutions with customers and clients and stressed the scale and pressure that UK water companies are under from wastewater. They opened by stating:
"Hard to overstate the growing pressure faced by our water environment"
Following this, Dr. Aboobakar outlined that organisations are not working together, and not taking ownership of water with little standardised design and reporting and often conflicting and inadequate policy.
Regarding to nature, they linked back to the issue of water waste, which often favours traditional hard landscaped solutions, with nature-based solutions not seen as a data-driven solution. This is despite examples such as the River Petteril that bought together enables such as The Rivers Trust that shared risk and investment to create a solution.
Dr. Clare Deasy, Strategic Catchment Manager, Northumbrian Water Group
 "Water companies need to transition to these low carbon solutions" was a key message highlighted by Dr Clare Deasy, who highlighted that water companies have the opportunity to make a change in the environment, however, do face challenges in environmental legislation and funding.
Regarding legislation, it was highlighted that a lot of current legislation looks at "end of pipe only" or is ringfenced for the specific sectors – which "reduces the need or want for collaboration"
In planning for AMP8 and the PR24 price review, Northumbrian Water requires an estimated 10x more investment than the current plan.
The solution for all is C&NBS (Catchment and Nature-based Solutions), which Northumbrian Water is currently pioneering with a 'Northeast catchments hub for nature-based solutions' which allows opportunities to be identified with shared costs and implementation.
Explore The Northumbrian Water Group 
Graham Weston, Wastewater Treatment and Sludge Strategy Manager, Yorkshire Water
Graham identified that not all water companies are in the same position regarding nature-based solutions, with different challenges and maturity in understanding NBS.
As an example of good practice, Graham spoke about the multi-award-winning sewage solution at Clifton, which Yorkshire Water aims to replicate