UK Pollinators: The Butterflies and the Bees
The issues faced by pollinators and what can be achieved on-site to support them.

There is a global "save the bees" discourse raising awareness of pollinators, and what they do. However, this awareness is often met with a disconnect regarding action.
In our Time to Act Report, we found that 84% of businesses "believe that they have the resources including finance, innovative thinking, people and time, to make a positive impact" but only 14% "have implemented strategies to make their land more biodiverse".
In this blog, we look at the issues faced by pollinators and explore examples of what can be achieved on-site with our grounds maintenance teams.
The butterflies and the bees. What are UK pollinators?
Firstly, it's important to understand what pollinators are. In short, they are species that move pollen between plants to enable them to reproduce, and globally they come in forms such as birds, bats, slugs, lizards, and a whole array of insects. Here in the UK, our most well-recognised pollinators are butterflies, flies, wasps, beetles, and bees.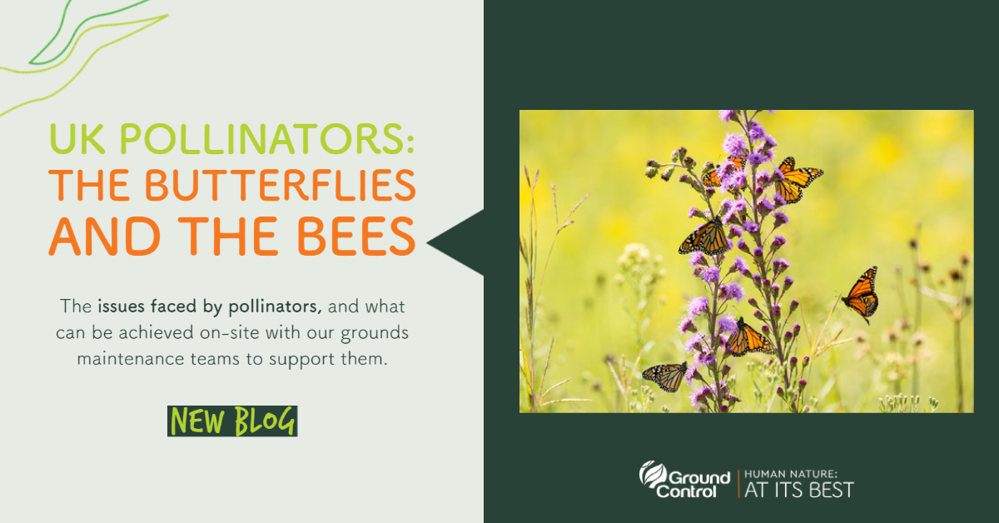 Why is this important?
Whilst some plants can self-pollinate, or rely on the wind, a number of UK crops and vital native plants require external pollinators. In the UK there are over 270 different species of bees, including 24 species of bumble bees that support the UK's most popular fruits: raspberries, strawberries, apples, and more.
There are around 70 crops in the UK that depend or benefit from bee pollination (Soil Association)
What is the problem?
Highlighted in our ground-breaking Time to Act report, we understand that "Britain now sits in the bottom 10 percent of countries globally for biodiversity…with just 53% of our natural wildlife and fauna left from before the industrial revolution".
We are seeing a reduction in biodiversity, which means pollinators themselves are declining, and now have fewer opportunities to survive, let alone thrive, with a 60% reduction in the population of flying insects in the last 20 years (Buglife). The knock-on effect for the plants they support and the wildlife they keep alive cannot be understated, as pollinators underpin the food chain and are vital for UK biodiversity, as well as food production for humans.
It is not only a food crisis for humans, but potentially an extinction-level crisis for other species.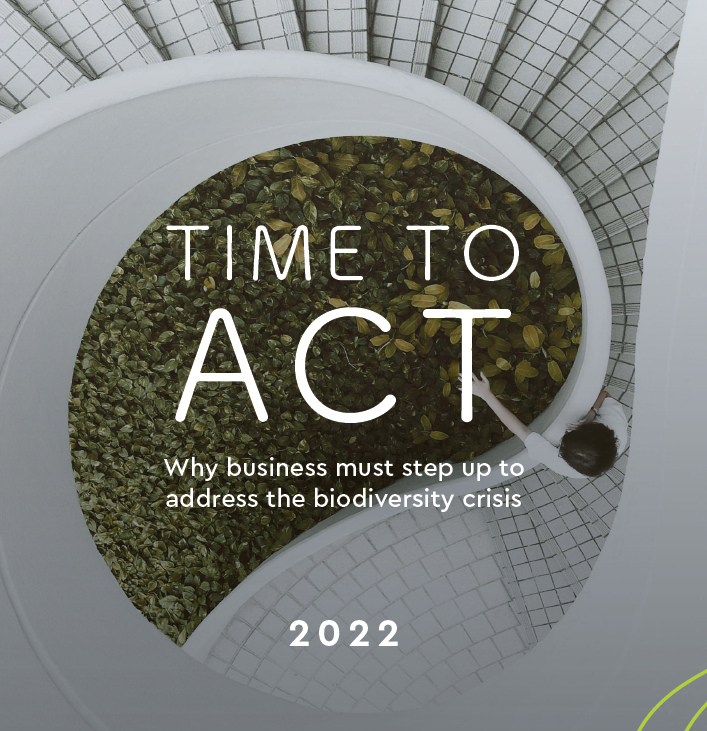 What can I do on my grounds?
Through our grounds maintenance contracts, our knowledgeable experts can create plans that support pollinators, boost biodiversity, and work well within budget. This nature-first approach to grounds can work within any sector and any size – with experience from car parks to a 296-acre nature recovery project.
Whilst solutions are built bespoke for each site, they can include:
Creating wildflower meadows. These areas provide food and shelter for pollinators, and can also interconnect different areas as 'green corridors'. This means a simple change on site, can have an exponential impact. By connecting areas of high-quality habitat for invertebrates we support pollination and therefore increase genetic diversity, leading to a more robust local ecosystem
Native tree planting. Wildflower meadows aside, there are many different ways to create corridors. Our expert teams can plant pollinator-friendly native trees such as hazel, goat willow, hawthorn, and horse chestnut, through a site to create a robust wildlife corridor.
Creating new habitats. Reimagining spaces can transform areas from biodiversity deserts into pollinator-friendly oases. We have been able to create spaces in industrial parks, plant forests the size of tennis courts, and harness the power of deadwood. 
Beyond these examples are a raft of nature-based solutions that can be integrated into grounds maintenance contracts at little to no cost, all created for your site, and maintained by our teams. From the station or insect boxes and bee bricks, to large-scale nature recovery - our teams can help.