The importance of 'Green Spaces' on human, nature, and health
The positive impact of green spaces and how they can boost productivity

Green spaces and constructed landscapes can have a positive impact on the health and welfare of individuals, as well as boosting their productivity. We investigate the link between green spaces and productivity, health and happiness, and see how Ground Control has created spaces to support this.
Green Spaces in the Workplace | Productivity and happiness
A study by LabGov not only identified that "when employees are happy, there is an increase in the company's overall productivity" but also established a positive connection between this happiness and the presence of plants and nature.
The connection between green spaces at work and productivity has been created through our works at Jaguar Land Rover, Gaydon. The project is in support of the company's wellbeing agenda and part of a wider development to provide extensive landscaping and native planting to the site that was complimentary to the surrounding Warwickshire countryside.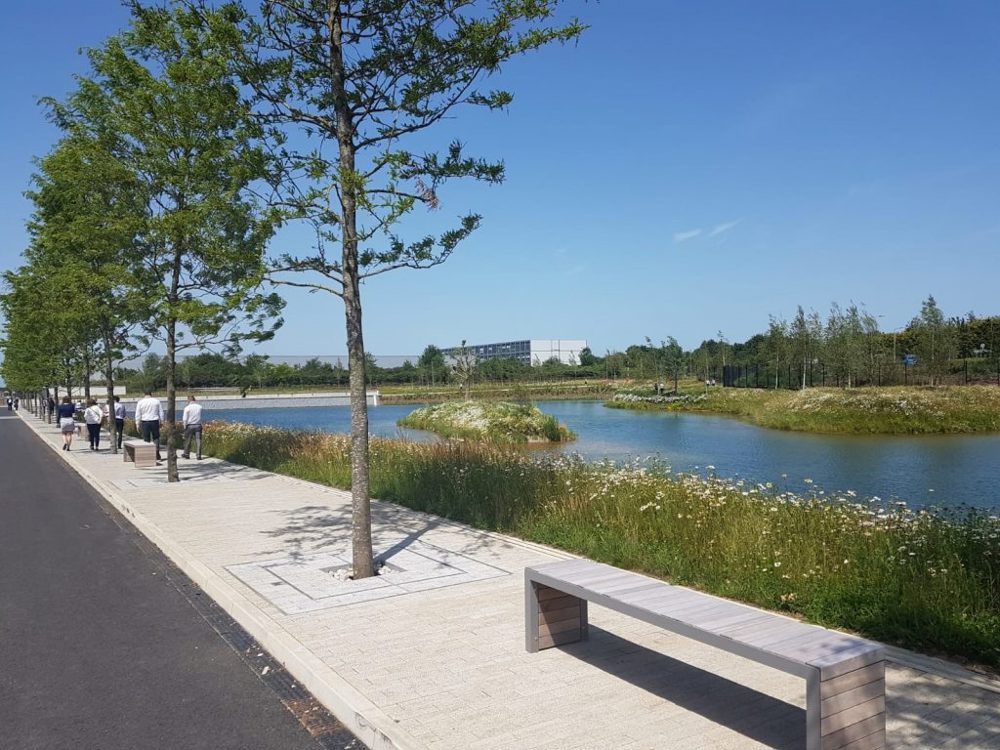 Importantly, this integrated both human and nature, made accessible to staff through the creation of a new accessible footpath.
This concept is also in action on a smaller scale at Longbridge Retail Park where Ground Control was contracted by St. Modwen Developments to reprofile the green spaces at their Longbridge Headquarters.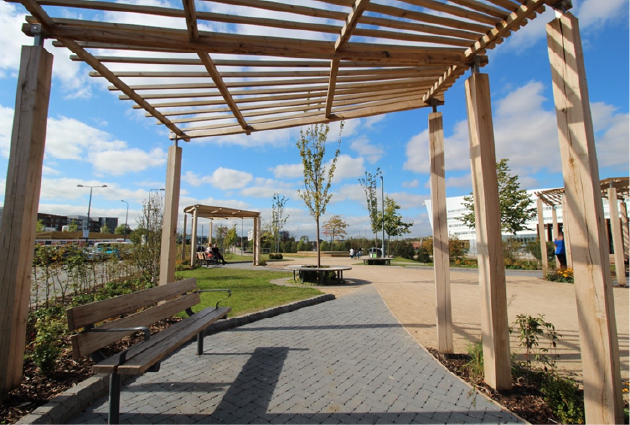 The aim of the project was to "create green spaces suitable for their staff to enjoy and relax in" whilst supporting St. Modwen's goal to "to achieve net biodiversity gains across all development activity". This has been achieved by the creation of pocket parks that also include high quality street furniture that encourages employee and public use.
Retrofit Biodiversity | Clean air and healthy living
Lancaster University shared findings from a team of their researchers that "demonstrate that roadside vegetation can be designed, installed and maintained to achieve rapid, significant and cost-effective improvement of air quality".
Whilst the effect in this case was assessed on the health of children at schools, the research is directly applicable to a project undertaken with JLL to transform a small area of wasteland at an Industrial Estate site near Glasgow city centre, into a beautiful, eco-friendly wildflower meadow.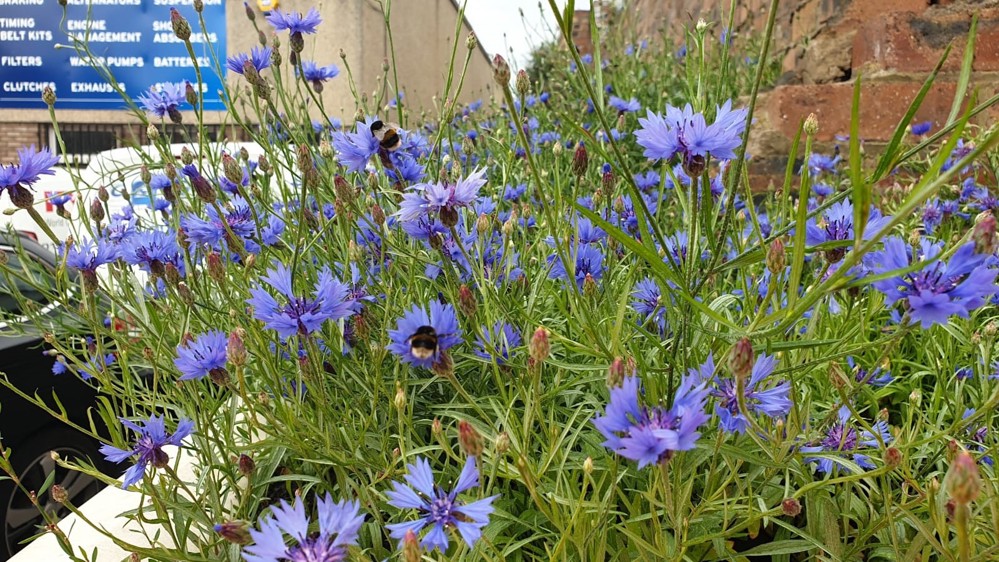 We introduced wildflower into a hard landscaped area designed to tackle the decline in bees, butterflies, and other pollinators in a grey industrial estate, but importantly to tackle the issue of the area being used for fly-tipping, which left in its current state, was creating a harmful impact on the environment, health and safety.
Examples of enhancing and supporting welfare though social value are showcased throughout the Ground Control portfolio. Examples transcend sectors and projects vary in size. However the common denominator in every case is improving welfare through green spaces.