Pro Landscaper 'Sustainable Company of the Year' 2022
Ground Control received the fantastic accolade of "Sustainable Company of the Year"

On Friday 22nd April, Ground Control received the fantastic accolade of "Sustainable Company of the Year" at the 2022 ProLandscaper Business Awards.
The Pro Landscaper business awards 2022 are particularly special as it celebrated five years of these awards. It brings together the landscaping community for an afternoon to celebrate the excellent standards set within the landscape industry.
We're extremely proud to announce that Ground Control were announced the winners of 'Sustainable Company of the Year'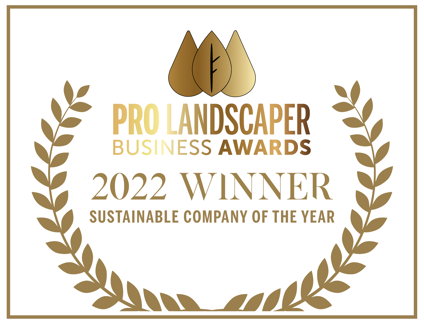 As a company we have proudly embed sustainability at the core of our ethos, our leadership, and our day-to-day operations. The notion of sustainability is firmly embedded in our business plan and strategic goals and is demonstratable in flagship educational events, such as 'Green Gains Live', and is actioned in environmental projects such as the 'Wildfell Centre for Environment Recovery'.
Ground Control's Group Sales and Marketing Director, Brain Smith said:
We are very proud to have been awarded 'Sustainable Company of the Year'. The award reflects the hard work of individuals across the business who have encapsulated our sustainability and biodiversity ethos and have then implemented this throughout Ground Control.
Throughout the last year, it has been a pleasure to see this ethos in all our work including our Evergreen Fund, our woodland creation partnerships, and embedded in our day-to-day operations.
We'd like to extend our congratulations to award winners and nominees in all categories, and say thank you to ProLandscaper for a fantastic event.