Join us at Housing 2022 Conference
Discover how external space can be used to help meet your net zero targets

For the second year in succession, Ground Control will be exhibiting (Stand B2) in the Unlock Net Zero Zone at Housing 2022 - the Chartered Institute of Housing's annual conference and Europe's largest housing festival. This year's event takes place at Manchester Central from 28th-30th June – we hope to see you there.
The Unlock Net Zero zone aims to help the housing sector to meet its net zero targets.  During the two-day event Ground Control will demonstrate how local authorities, social housing landlords, new build residential developers, supported living, care and retirement providers can implement nature-positive grounds maintenance & landscaping to help deliver sustainability goals.  Our team of experts will also explore the equally as important 'Levelling Up' agenda and outline how housing clients can unlock the potential of green assets to help the next generation reap the benefits of their natural world.
Meet the Ground Control Housing Team at Housing 2022
Ria Bailes, Ground Control's Senior Housing Advisor and Chair of the Green Spaces Advisory Panel, and Sector Lead Sam Jones, will both be attending Housing 2022. They will participate in selected sessions on the Unlock Net Zero Stage – which is open to all – from Tuesday 28th June to Wednesday 29th June.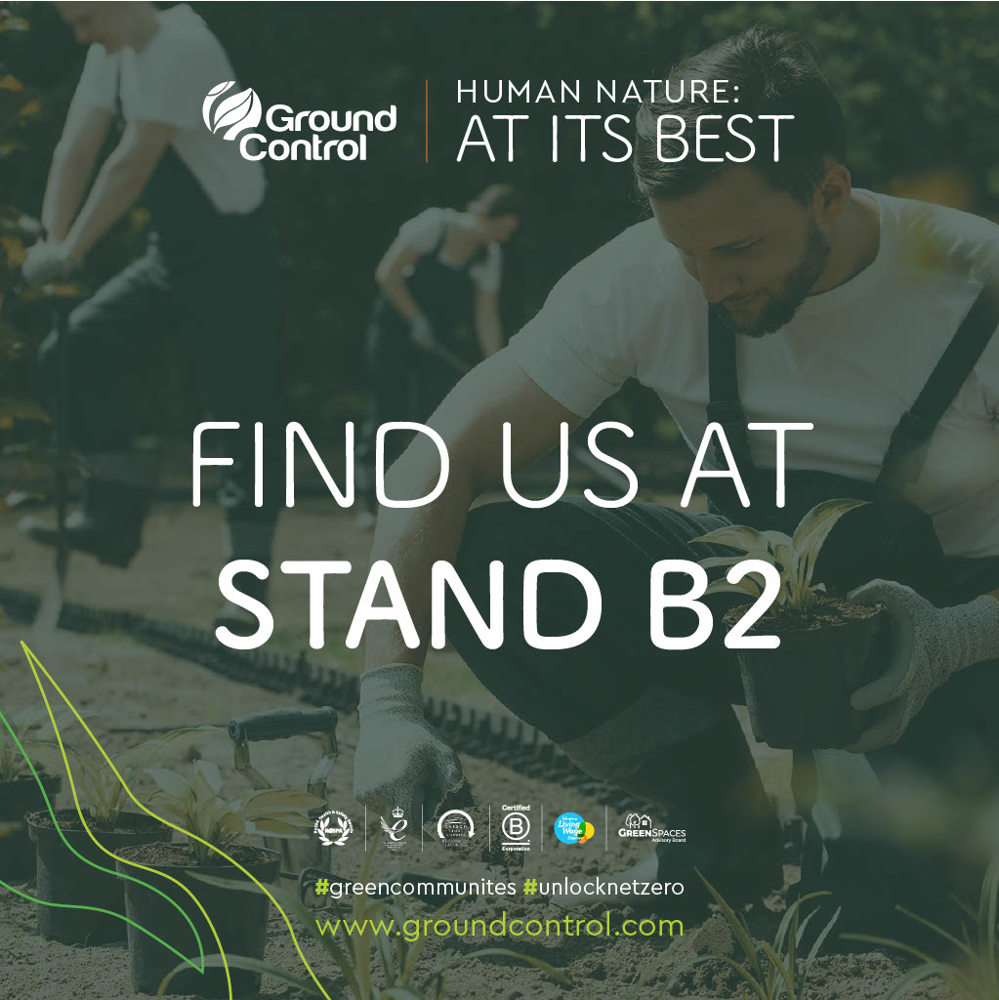 Ground Control Sessions & Events 
Tuesday 28 June, 12.30-13.20, Unlock Net Zero stage
Ria will be taking part in the 'People at the heart of the transition' panel. 
Tenants and residents are on the frontline of our work towards net zero housing. We    hear from the housing providers that are supporting true behaviour change to secure a successful net zero transition for all. Our panel talk through collaborative retrofit projects, education programmes to make the most of heat-pumps and low carbon technologies, and the tools to equip tenants, residents and organisations to create positive change for a greener future.
Tuesday 28 June, 13.30, Green Spaces Advisory Board, Unlock Net Zero Stage
Join Green Spaces Advisory Board (GSAB) members including Peabody, Home Group, Notting Hill Genesis, Orbit Group, Clarion Housing Group, Futures Housing Group.  Hear progress updates on the work of this pioneering cross-industry collaboration. Join the launch of a new public discovery programme – which is open to all in the housing sector, local community, councillors and others with an interest in how housing associations can utilise green assets to help achieve net zero.
Wednesday 29 June, 10.10-11.00, Unlock Net Zero Stage
Sam will be taking part in 'Against the elements: how is the sector adapting to the extremes of climate change?' panel.
Severe flooding, warmer temperatures, biodiversity loss. The extremes of climate change are forcing the sector to adapt in the design, construction and management of homes and communities with new realities in mind. How is the sector approaching the protection of natural habitats and how are the extremes of global warming being taken into account for both new build and retrofit projects? 
Sam will examine how nature-positive land management can reduce localised flood risk, enhance shade,   reduce heat island temperatures within community green spaces, and provide biodiverse habitats for the benefit of people and planet. 
Wednesday 29 June, 14.10.15.00, Unlock Net Zero stage
Ria will be taking part in 'Green skills and employment: delivering programmes that work' panel.
The energy transition is creating a mammoth skills challenge for the housing sector. 350,000 new roles will need to be created in the construction industry and the UK's retrofit industry must grow by ten times to reach net zero targets. Join us to hear about the skills programmes that are revolutionising core trades to deliver quality retrofit work and net zero construction. We look at how these programmes are re-training and recruiting for a low carbon future, supporting local economies, and embedding a green mindset at every level of the workforce. 
There's no doubt, as the climate emergency gathers pace, our communities need to change - and so does the way we view green assets.
Join us at Housing 2022 – gain an understanding of how the housing sector can best utilise green assets to help achieve net zero.
Join our LinkedIn Housing & Communities group and be part of the conversation about 'creating and pioneering sustainable environments that work for those living in our communities'.