Out with ash dieback, in with biodiversity
Restoring an Anglian Water site back to a biodiverse nature reserve

Ground Control has teamed up with utility provider, Anglian Water Services to restore an area of infected woodland back into a biodiverse nature reserve.
Anglian Water Services contracts Ground Control to deliver vital vegetation management works and nature-based solutions, that keep their operational sites and surrounding land, safe and fit for purpose, whilst caring for the species that inhabit it. 
This latest project concerns a woodland area on the Anglian Water site in the village of Marham, Norfolk. A public footpath that cuts through the site, serves as a popular nature trail for residents and ramblers. 
The site has become victim to the highly infectious Ash Dieback disease, a common issue for Ash trees in the UK, causing rapid decay that makes the infected trees unstable, unfit for purpose, and harmful to wildlife.
In this instance, over 200 trees had been identified as hazardous, particularly to the users of the public footpath, where the dead, dying, or diseased vegetation was overhanging, and breaking away.
The process and solution - Ecologists and the Kobelco 
Ground Control ecologists and mechanised arboriculture teams met with the biodiversity and environmental leads at Anglian Water. They assessed the sites, marked up the damaged trees, and established exclusion zones to protect wildlife inhabitants, during the tree-felling process. 
The ecologists identified that bats were the predominant species inhabiting the woodland during the time of works, so measures were put in place to protect the bats prior to the vegetation clearance works. The clearance works, naturally took place outside nesting season, although very few bird species were identified as using the woodlands currently, due to the severity of infected trees. 
Ground Control's state-of-the-art mechanised arboriculture machinery, in this case, the Kobelco, was deployed to clear the infected trees quickly, avoiding the bird nesting season, and minimising the time of restricted public access to the footpath.
The Kobelco was selected for this project due to its low-ground pressured, rubber pads that make the machine incredibly sensitive for protecting healthy vegetation and nature whilst removing what is necessary. Equipped with the VOSCH - 1600-7T HD grapple saw, the Kobelco SK140 can effectively dismantle large, affected Ash trees into manageable pieces that are safely lowered to the ground. With the Kobelco being installed with full Falling-Object Protective Structures (FOPs) guarding, the operators are fully protected when tackling these dangerous trees from inside the cabin. The Vosch grapple saw can cut any materials to any size, enabling cuttings to be safely removed from the site.  This also allows for multiple ways to repurpose the materials.  In this case, the common reuse of the timber is as habitat piles for nature and as biofuels.
 Biodiversity Action Plan Scientist at Anglian Water Services Mike Drew commented:
Marham Fen is a local wildlife site and is an important attraction for residents and visiting ramblers. We fully appreciate how invested our community is in this site which we have a responsibility to protect and maintain so it can continue to serve its purpose as a thriving nature reserve and source of water for abstraction.
Ash Dieback disease is a huge issue for UK Ash trees in the UK, which, if left untreated can infiltrate an entire forest altering the woodland habitat.
There are some Ash trees that aren't showing signs of the disease so there is hope still.
We are pleased to be working with our like-minded partner Ground Control, bringing together ecologists and vegetation management experts to efficiently prepare and repurpose the site for a more biodiverse, sustainable future.
The area was traditionally home to natural wetland habitats which we hope to restore over time through careful land management and biodiversity best practices.
Ground Control Contract Manager Sam Pugsley commented:
Mechanised arboriculture is the method of tree-felling and site clearance operations that use specialist vehicles, operated from a cabin at ground level. Unlike traditional chainsaw methods, mechanical felling removes the tree in one whole piece or dismantles it from the safety of a cabin. The speed and safety benefits of this operation, enable more tree felling in less time, minimising disruption, and maximising cost savings for our clients.
Our Arboriculture division's new Kobelco proved its worth on this project, clearing over 200 infected trees along the footpath in less than five days.
The scheme is designed to enable the landscape to regenerate back to a healthy, nature-rich state. This should include natural wetlands and vegetation developing over time and subsequently, attracting a vital range of biodiverse species to the ground, trees, and wetlands.  We are pleased to support Anglian Water in laying the foundations for this, and we look forward to continuing our partnership with Anglian Water, to ensure all sites are safely maintained and fit for native species to thrive in.
When dealing with Ash dieback projects, Ground Control follows the Hierarchy of control guidance from the HSE and uses mechanised removal as the preferred option every time. This reassures clients and colleagues that Ground Control is delivering work to the safest standards, following the recommended practices that keep teams safe when carrying out work to dangerous trees.
What we did with the materials that were removed during the works
Habitat piles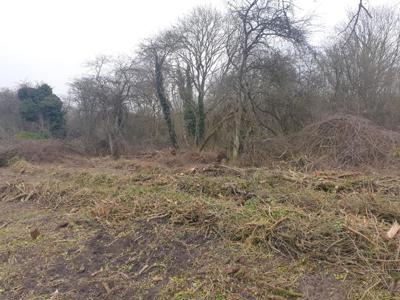 Habitat piles were created in windrows throughout the woodland from any of the branches and old deadwood that were removed off the main stem, the reason being In woodlands, dead and decaying wood is a natural occurrence and provides essential habitat for lots of wildlife within this ecosystem. It is a home and a source of food for many animals. Log piles mimic fallen trees. They provide a shelter for hibernating small mammals and insects. The worms and grubs provide food for birds and mice. All sorts of interesting fungi can end up growing there. Within a year or two, a wildlife community can be created in and around a log pile. It also provides cover for any animals that are placing residence in the Marham Woodland allowing them shelter and protection from any potential predators.
Standing Poles left for deadwood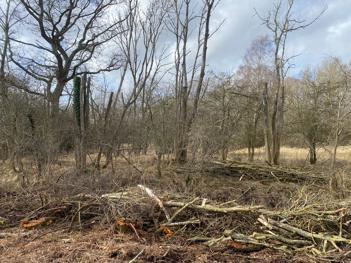 Standing poles were left within the woodland so over time they can become pieces of standing dead wood. Deadwood is a crucial component of forest ecosystems. Not only does it play an essential role in sustaining biodiversity, but it also delivers important ecosystem services. Deadwood plays a key role in processes such as soil formation and nutrient cycling. As the wood decomposes it returns important nutrients to the soil, supporting new growth. It also supports up to a fifth of woodland species, depending on dead or dying wood, to complete their life cycles. Many of these species are considered rare or threatened, such as the stag beetle. 
Deadwood of all varieties supports a large and complex food chain that is driven by fungi. Did you know that around 2,000 of the UK's invertebrates are saproxylic? This means that they are reliant on dead or decaying wood! But it is not just the mini-beasts that rely on deadwood. For example, hollow trees provide homes for birds and mammals, with many species of bat to be found roosting inside.
Timber Removal
All the main timber from the stem of the tree was cut up and removed off-site. This material will now be used as renewable energy within the local community including local farmers who will use the material to heat their farms drying out crops grown locally. Also will be processed into a firewood product and sold locally by local businesses.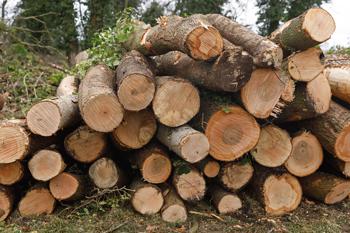 Short pieces of timber
Short manageable pieces of wood were left within the woodland for the local community to help themselves and take from the site for firewood material.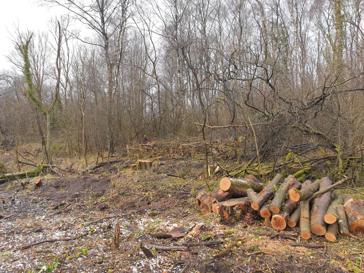 Talk to us about ash dieback