Making the world inclusive for people suffering from post-natal depression
Tamae Isomura explores the impact of landscape design on those suffering from post-natal depression in 'Landscape'

Senior Landscape Architect, Tamae Isomura, shared a personal and insightful thought leadership piece in 'Landscape', the journal of the Landscape Institute. In this piece, Tamae explored how 'The quality of landscape design can have a huge impact of those suffering from post-natal depression.'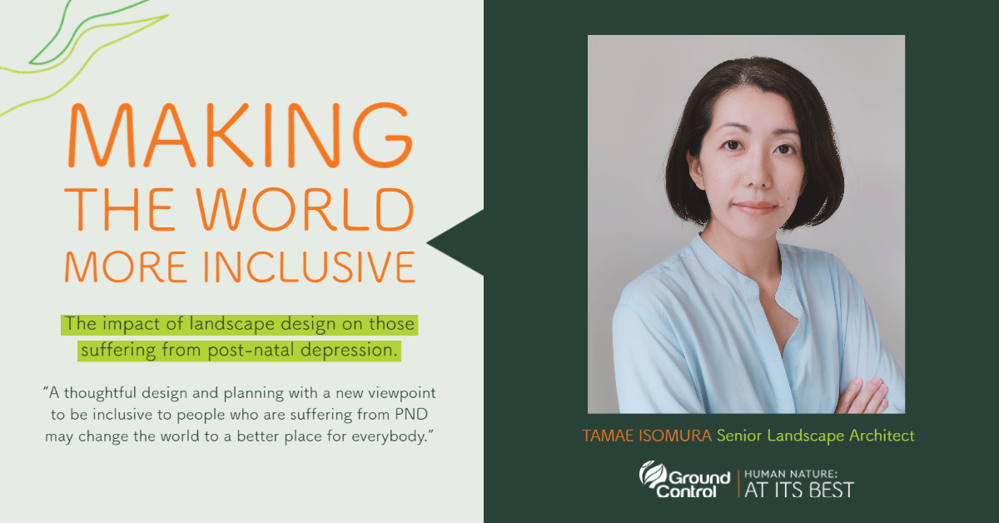 The journal edition entitled 'Designing for gender equality' was celebrating 100 years of women in landscape architecture, in which Tamae discussed a project with Mid and South Essex NHS Trust alongside her personal experience with Postnatal Depression (PND) and the importance of good landscape design in supporting her.
One of the causes for my case was isolation. I was living on a busy road and there wasn't much interaction with the neighbours. I had moved from Japan and had no family here. During my dark period, a local small playground played a significant role in motivating me to get out of the house and saw me through the hardest times.
Tamae goes on to analyse issues that may go overlooked in the creation of spaces. These issues often make parks and green spaces unsuitable for families, and difficult for toddlers to use independently. This removes the opportunities for parents have 'me' time in a supportive social environment.
Most of us were there to let the babies and pre-schoolers play and enjoy some adult conversation or have some 'me' time. But the no-fencing concept did not allow us to do so. Some off-the-shelf equipment was also not thought through, such as slides which were inaccessible for toddlers, requiring adults to lift them up all the time. 
Further to these observations and analysis, the article investigates the differences between two towns, and how accessible planning can allow for positive social experiences and support issues such as PND. This is applicable to many situations, and in this case, Tamae linked this back to her personal experience.
A thoughtful design and planning with a new viewpoint to be inclusive to people who are suffering from PND may change the world to a better place for everybody.
In an additional article Tamae explores her role in the creation of the Broomfield Hospital Baby Bereavement Garden. The project allowed her to put her lifelong interest in therapeutic landscape design into action at Mid and South Essex NHS Trust.
The design concept of this garden is 'butterfly garden'. This garden area is not specific to any religion or background. Butterfly is open to interpretation - it can be a symbol of spirit, soul, angel, or perhaps 'friends' of lost babies. In the biodiverse environment on the edge of the ancient woodland, wildlife friendly planting will encourage various habitats including butterflies and benefit to the existing ecology of the natural heritage of Broomfield Hospital.
Landscape, the journal of the Landscape Institute (LI), showcases the best of design, management and thinking. Click here to read the full publication online for free.