Top 100 Best Companies to work for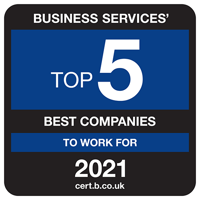 Being named one of the UK's Best Companies to Work For is an accolade like no other. It recognises your commitment to your employees and demonstrates that you see workplace engagement as a vital part of your organisation's success.
Being named as a Best Company is something that organisations the length and breadth of the nation strive for – but only the very best achieve. It's a unique opportunity to tell a positive PR story, in turn helping you attract and retain the best talent, set you apart from the competition and win new business.
Among the initiatives and factors taken into consideration by the judges were:
Investment in staff training, apprenticeships and career development
The company's philanthropic practices, including supporting charitable activities by staff members
The company's journey to achieving carbon neutrality, including the establishment and launch last year of the Evergreen Fund.
In the three categories entered, it found Ground Control was:
One of the best 100 large companies across the entire country - Ranking 62
East of England's 75 Best Companies to Work for - Ranking 30 
In the top 5 companies working in the business services sector - Ranking 5