BALI Principle Award
Employer Excellence – Turnover Over 2.5M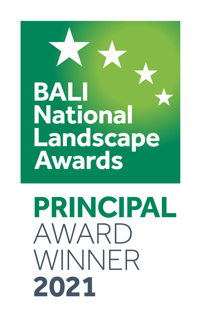 Employer Excellence – Turnover Over 2.5M
The annual BALI National Landscape Awards are aimed at landscape designers and contractors
Ground Control won a Principal Award for outstanding contribution to the landscape industry that has achieved excellence through staff development and exemplary business practices. Ground Control was recognised for adopting an inclusive culture that encourages, supports, and celebrates diversity of all its people whilst fueling entrepreneurialism and innovation. This includes a like-minded team who live by the Ground Control values of:
Delivering outstanding customer service
Innovation and embracing change
Valuing each other a
Acting with integrity and honoring our commitments
Seeking value in everything we do
A desire to win
The BALI awards are this largest landscaping awards in Europe. Every construction and design project is visited personally by a judge and scrutinised individually. The Awards judging panel of acclaimed industry experts, demands the highest level of professional excellence. They jointly deliberate each decision to ensure consensus that the winners really do represent the very best in landscape construction and design.